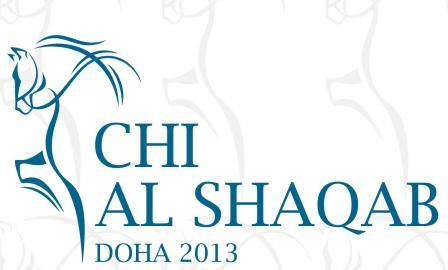 THE MIDDLE EAST'S FIRST EVER CHI INTERNATIONAL EQUESTRIAN COMPETITION IS SET TO TAKE PLACE FROM 27 TO 30 MARCH AT AL SHAQAB'S VISIONARY EQUESTRIAN VENUE, IN THE SPECTACULAR CITY OF DOHA, IN THE STATE OF QATAR.

CHI AL SHAQAB 2013 will feature the very best riders in the world across three equestrian disciplines: Show Jumping CSI5* and CSI3*, Dressage CDI4* and Endurance CEI2*.

The top 30 show jumpers and 15 dressage riders from the International Equestrian Federation (FEI) world rankings have been invited to take part. Riders who have confirmed their participation including show jumping's reigning Olympic individual gold and silver medallists Steve Guerdat (SWE) and Gerco Schroder (NED), and all four members of the Saudi Arabian bronze-medal winning team from London 2012. They will be joined by British team gold medallist Scott Brash, as well as William Funnell, Laura Renwick and Michael Whitaker, and Australia's Edwina Tops-Alexander.

The dressage start list includes Germany's rising star Kristina Sprehe and former Olympic individual and team gold medallist Isabell Werth, in addition to Sweden's Patrick Kittel. Riders from seven nations in all will be battling it out for Grand Prix and Grand Prix Freestyle honours.

This showcase equestrian competition, organised under the patronage of HE Sheikh Mohammed Bin Hamad Al Thani and HE Sheikha Al-Mayassa Bint Hamad Al Thani, is designed to honour the country's centuries-old tradition of equestrian excellence. AL SHAQAB is located within Qatar Foundation for Education, Science and Community Development's main site in Doha, Qatar, and comprises 980,000 square metres of world-class facilities. An estimated 10,000 spectators will pass through the doors over the four days, while members of Qatar's Royal Family and other guests of honour from the GCT are also expected to attend.

CHI AL SHAQAB 2013 will raise equestrian entertainment to a new level. A staggering 17,000 square metre spectator plaza has been designed with families in mind and will boast a fashion exhibition, a food court, a dedicated 'kids zone' featuring pony rides and horse shows, plus an array of cultural presentations.

Mr Fahad Bin Saad Al Qahtani, President of CHI AL SHAQAB 2013 and Director of AL SHAQAB, commented, "CHI AL SHAQAB 2013 will raise the standard and level of competition of equestrian events in the region. It is the first time that a competition of this magnitude is being held in the Middle East and Asia, and we see it as a benchmark from which our equine industry will grow."

--Ends--

For all media inquiries, please contact:

Rasha Refaat
BLJ Qatar
(+974) 7021 8254
rashar@bljworldwide.com

For all international media inquiries, please contact:
Bridget Jennings
JB Promotions
(+44) 7850 822 820
Bridget@jbpromotions.co.uk

For further information visit: www.chialshaqab.com

Facebook: www.facebook.com/CHIALSHAQAB
Twitter: www.twitter.com/CHIALSHAQAB
YouTube: www.youtube.com/CHIALSHAQAB

About AL SHAQAB:

His Highness Sheikh Hamad Bin Khalifa Al-Thani, Emir of the State of Qatar, founded AL SHAQAB in 1992 to preserve and further develop the Arabian horses in Qatar. AL SHAQAB is led by HE Sheikh Mohammed Bin Hamad Bin Khalifa Al Thani and encompasses an Endurance Team, a Breeding & Show division, and a Riding Academy.

In 2004, AL SHAQAB proudly became a member of Qatar Foundation. AL SHAQAB's mission is to be global leaders in preserving, improving and promoting the Arabian horse breed through setting the highest standard in breeding, show, equestrian arts and equine welfare while encouraging community participation.

CHI: (Concours Hippique International - International Equestrian Competition) is the official title given by the FEI (International Equestrian Federation) only to international equestrian competitions with three or more equine disciplines.