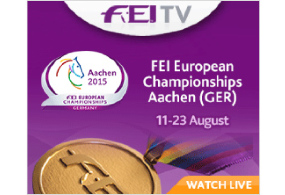 Excellent news for the international equestrian community as FEI TV (FEITV.org) will offer live streaming and extensive Video on Demand coverage from the FEI European Championships 2015 from Aachen (GER).
FEITV.org is FEI's official video website and a sophisticated online broadband offering to equestrian enthusiasts around the world. The portal presents fans globally with the most comprehensive library of official equestrian video content available anywhere on the internet and spans across multiple equestrian disciplines.
The content portfolio includes high quality live and on-demand streaming of flagship FEI events. This features a wide range of shows from FEI's most important series and championships, including the FEI European Championships and other leading competitions.
In addition, the visitors to the site can also enjoy access to a broad selection of equestrian videos, including event previews and reviews, highlights, interviews, features and an extensive video archive.
Sign up today through HORSE TIMES' website.
--Ends--