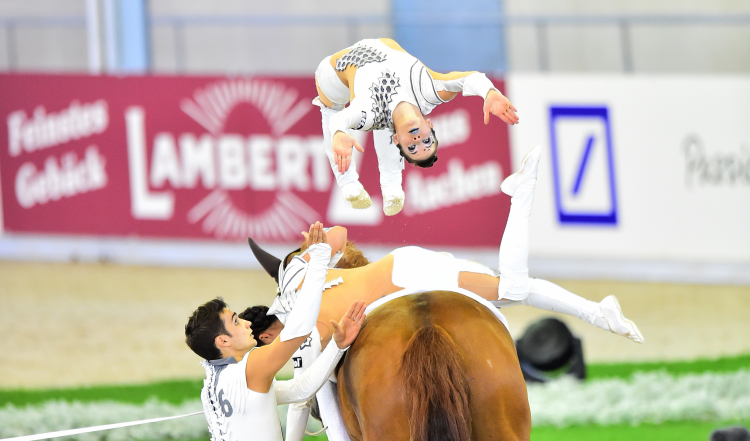 Via: FEI
Switzerland's Simone Jäiser held on to the lead she established in the technical test to scoop gold at the FEI European Vaulting Championships 2015 in Aachen, Germany yesterday.
The 28-year-old, who was individual bronze medalist at the Alltech FEI World Equestrian Games™ 2014 in Normandy (FRA), showed great body control and strength in today's Final freestyle, and couldn't be overtaken despite a brilliant performance from Germany's Corinna Knauf who had to settle for silver, while Austria's Lisa Wild took the bronze.
The atmosphere in Aachen's Deutsche Bank Arena was at an all-time high, with Vaulting fans getting together on Facebook prior to the event to coordinate their colours. Spectators in the north stand wore black, while those in the east wore red and in the west stand they wore yellow to represent the host nation flag. And it proved well worthwhile when, in a competition filled with dramatic errors but courageous recoveries, Team RSV Neuss-Grimlinghausen took gold for Germany in the hard-fought squad final.
Female final
Jäiser went way out in front in the competition, scoring 8.668 for a performance that oozed comfort, confidence and class when 12th to go of the 15 starters. But the 22-year-old German, Corinna Knauf, followed with a routine that placed her first in this fourth and final test. With no mistakes, and movements so smoothly blended, she posted 8.747, which was the best of the day. However, all athletes carried their scores from Thursday's opening compulsory competition, Friday's first freestyle and Saturday's technical test into the deciding freestyle, so Knauf's final tally of 8.280 slotted her in behind her Swiss rival.
Second-last to go, and lying fourth going into the final afternoon, Germany's Christine Kuhirt made an elegant start to her jazz-themed performance, but struggling with an early off-floor movement and late with her dismount, her score of 8.103 would only be good enough for fifth on the day and left her just off the podium. Now it was all down to Austria's Lisa Wild who was last to go.
Creating a sensation
The 20-year-old became known as "the backflip queen" after creating a sensation with the dare-devil movement at the FEI World Vaulting Championships in Le Mans, France, three years ago, and was considered a strong contender for the 2015 European title after her victory at the FEI World Cup™ Vaulting Final in February of this year.
She is always a big hit with spectators everywhere she goes and, as she entered the arena with her lunger Nina Rossin and horse Robin, she knew she was still in with a chance of taking the title if she was prepared to take the risk.
She had moved into third with a strong technical test on Saturday and was working her way through an impressive routine yesterday until she finally attempted the back-flip exercise, but it didn't come off. Without enough height she crumpled when landing on Robin's back, but the crowd appreciated her courage in attempting the movement that would have earned her extra marks for the high degree of difficulty, and the judges rewarded her with 8.452, which brought her closing total to 8.207 and was good enough for the bronze.
Newly-crowned champion Jäiser was thrilled with her result. "I can't believe that now I am the European champion. It's a big dream, I hoped it, but I never believed it would happen - it's fantastic. My performance was good, there were no mistakes, or only a little one that I could make it so that the audience couldn't see it very well! So I'm very happy!" she said.
Squad finale
It was an even more nail-biting finish in the squad, with nerves and pressure affecting some of the strongest sides, while others really rose to the challenge.
Team Ecurie de la Cigogne went out in front for France, with their flier, Christopher Robin Krause, and their fabulous horse Watriano R reinforcing a tremendously solid team effort that was filled with grace and elegance, ensuring it was a pleasure to watch. The strength of the three-tier movements was particularly impressive, with Krause holding position and presenting the picture of lightness and athleticism. When their score of 8.877 went up on the board, the 14-year-old and his older squad-mates Christelle Haenell, Cleone Fritsch, Clement Taillez, Remy Homberq and Anthony Presle put it right up to the remaining three teams. And one by one, they all felt the pressure.
Austria's Team Wildegg had three fall errors including two in a triple stance, but they made a strong recovery to post 7.669 considering the extent of their drama. And then the reigning world champions from Germany, Team RSV Neuss-Grimlinghausen, ran into trouble with two dismount falls and another in a triple movement.
However, such was the complexity of their programme, that high horse scores and artistic marks earned 8.863 and brought their final scoreline to 8.597. So Pauline Riedl, Julia Dammer, Jannika Derks, Leonie Falkenberg, Mona Pavetic and Johannes Kay could now only be denied the top step of the podium if Switzerland's Team Lütisburg could produce something very special indeed when last to go. But they were in trouble from the outset with a fall in their very first movement, and another later in their programme.
Although Nadja and Martina Buttiker, Ramona Naf, Nathalie Bienz, Raffaela di Maria, and Kyla Seiler finished strongly, their final overall score of 8.104 left them over 4.5 points behind the German champions, but only 0.42 ahead of the bronze medalists from France.
--Ends--