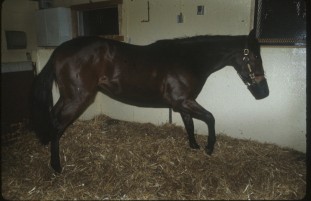 Peri-anaesthetic complications in an equine referral hospital: Risk factors for post anaesthetic colic
Jago R.C., Corletto F. and Wright I.M.
This retrospective observational study aimed to characterise the incidence and risk factors for post-operative complications, including colic, at a single referral centre utilising a standardised anaesthetic protocol on a predominantly racing Thoroughbred population.
Clinical records from 1021 horses undergoing a total of 1067 surgical procedures (both elective and emergency surgeries) under general anaesthesia were analysed. Post-operative complications occurring within a 7-day period of general anaesthesia were recorded. Horses that died or were euthanased after this period, but for reasons related to complications which had first occurred within the 7-day period, were included in incidence of post-anaesthetic complications. The mortality rate in this study was 0.94%, too small to be able to identify risk factors specific for mortality.
Post-anaesthetic complications developed in 169 horses (15.8%). Gastrointestinal complications accounted for 50% of all complications in the study, with the overall risk of post-anaesthetic colic being 10.5%. Thoroughbreds had increase in the risk of gastrointestinal complications (colic, reduced faecal output and colitis) compared with non-Thoroughbreds. The majority of colic cases (80.2%) occurred on the day of or after surgery; 67.6% responded to one dose of phenylbutazone and electrolyte and liquid paraffin solutions given via nasogastric tube. The majority of the remaining cases were diagnosed with pelvic flexure impaction or dry faecal material in the small colon and rectum, with a small number of other causes.
Of the 29 risk factors analysed in the study, those which significantly affected the risk of post- anaesthetic colic were breed, peri-operative antimicrobials and use of butorphanol. The use of sodium benzyl penicillin was associated with significantly increased risk of colic compared to other antimicrobials, a finding that warrants further investigation. Use of butorphanol was associated with a lower risk of post-anaesthetic colic; however, the dose range used was not included as part of the analysis, so again further investigation is warranted.
Bottom line:
Gastrointestinal complications account for 50% of post-anaesthetic complications in this study, with a significantly increased risk in Thoroughbreds compared to other breeds, and when sodium benzyl penicillin was used as antimicrobial cover. The use of butorphanol peri-operatively appeared to reduce the risk.
--Ends--