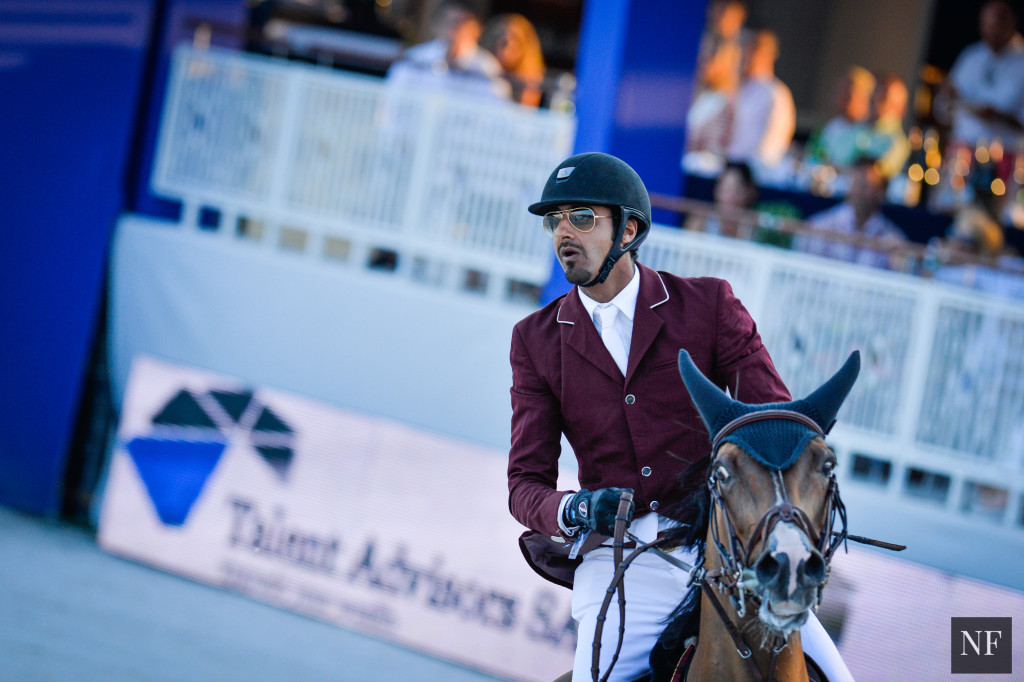 Via: noellefloyd
With First Devision and Vienna Olympic quietly eating their hay just over the stable door, we sat down to talk with Sheikh Ali Bin Khalid Al Thani at his European base with Jan Tops in Valkenswaard, The Netherlands, ahead of the Longines Global Champions Tour Grand Prix in his home country of Qatar. Currently the top Qatari rider in the world, 6th in the LGCT Ranking leaderboard and fresh from his recent qualification with his team for the Olympic games in Rio next year, Sheikh Ali Bin Khalid Al Thani talks us through his progressive career, the very special horses he has, and just how significant the Longines Global Champions Tour has been for showjumping growth in the Middle East and on a global scale…
Q: Let's look back to the very beginning, where did it all begin for you and how did you become interested in horses?
A: I started when I was very young, when I was around seven years old. In the beginning it started with my cousins who had horses on their farm, just normal horses, but it's where I began riding. From there I started to love horses; I would always go to them whenever I could. Then my school offered us the chance to ride with the federation three times a week after school – I signed this paper and went for two weeks. A trainer from the riding school selected me for the team and told me that if I could I should come every day, but only if I wanted to. I was so happy! I would say it started from there. I went to a summer camp in Ireland, for two years in a row – here we did all the disciplines, cross country, dressage and of course showjumping. After the two years, I chose jumping and that's where it really began.
Q: Do you remember the first pony you ever rode?
A: I actually started with an Arab horse! I still remember my first horse, she was a grey mare and she had an Arabic name, Al Romania. She was the first horse I started with.
Q: Do you recall the point where you thought, right, showjumping is the discipline I'd like to focus on?
A Yes, for me showjumping is the most exciting – I just love to jump. Dressage is a nice sport, and some people said I would make a good dressage rider as I'm very tall , but jumping is more exciting for me.
Q: How has the Longines Global Champions Tour season gone so far for you? You're currently 6th in the ranking as we head to the final round…
A: This has been one of my best seasons. All my horses are well; some riders are unlucky with injuries, but my horses have all been in top health and on top form this year. Together with Jan Tops we created a very good programme for them. My plan this year was to be higher in the FEI Ranking, and last year Jan and I set the goal that I should aim to be in the top 50 riders. He said, 'this year, you will be in the top 50.' And suddenly now I find myself in the top 30, not just the top 50 anymore! We concentrated on the big Grand Prix events such as the Longines Global Champions Tour to collect more points and in turn it has made me higher in the LGCT Ranking.
Q: Tell us about Longines Global Champions Tour; how is it evolving and growing the sport since you've been competing at this level?
A: For me I have learned a lot with LGCT. As you know all the best riders compete with their best horses on this Tour, so if you want to compete against them you have to do as well as them, otherwise you would have no chance to be among them. I started a few years ago with LGCT and it was hard for me in the beginning to even get placed with these riders. However after a few years, with good horses and a good programme I started to really get better. Now after competing on the LGCT, the rest of the shows come much more easier for me than before – I've really learned a lot from it.
Q: Talk us through your rather special horses; Vienna Olympic and First Devision are right up there as being some of the best showjumpers in the world…
A: Every rider needs top horses to do well in our sport. My best two horses, Vienna Olympic and First Devision, are very special. I have two others who are sweet horses, and can sometimes jump Grand Prix events – they are not first horses but they can also do well. Vienna is my best horse, and I chose her. I'd seen her a lot with Edwina [Tops-Alexander], and I always loved this horse. She was 7 years old and I saw she had great quality – all the scope and a very good mind, very cool in the head and I love to ride her. I bought her when she was 8 years old and still young, and we've grown up together to compete at the top level. We give each other good confidence and my feeling is I can do anything with her, and go to any show.
A year later I bought First Devision. He was already a good horse, and had had some good results before I took him on. He has all the power, and although he's a little bit more difficult than Vienna to ride, he has even more power than her when it comes to jumping. Jan chose him for me; he told me 'this horse will be a good match with you', which was true! I quickly got used to him and I think from my second Grand Prix I was placed. Since then I've won a World Cup Grand Prix with him and we have often been placed in LGCT Grand Prix events.
Q: Tell us about qualifying for the Olympics… It was a historical moment for you and Qatar…
A: It was a goal for our team two years ago that we would qualify for the Olympics. It's one of the reasons we decided to train with Jan Tops as we know he is the best and would help us to grow as a team. We came here to his stable in Valkenswaard, The Netherlands, and really worked hard together. He did a good job with our team, as it was a big mission that we had in order to qualify for the Olympics. It's particularly hard, as from our region only one country will go through, so we had to be the best otherwise there would be no chance to go. Together we planned it very well, we all worked very hard for it and finally we achieved it.
The Olympics is our dream. It was an unbelievable feeling to qualify, we were all really happy and felt as though we had won a medal already! For us it was very special as it was the first time a Qatari showjumping team had qualified, and it means a lot for us. Now our next goal is get a medal – it is our target. I know it is even harder than qualifying, but we are working for it. If we don't get it this time, we will fight for it until we get it.
Q: What will it mean to you to compete on home turf at AL SHAQAB for the final LGCT round? You are the top Qatari showjumper and will bring your best horses to this incredible venue…
A: We have many local fans who support our team, so of course we will try to do our best at our home event. I always want to make them happy and proud, and all of our team work hard to try and do that. We've worked hard all through the summer and at every event to make our people proud of us; we work for our country, for our flag and we always do our best to make people really proud.
Q: How has showjumping grown in Qatar, and how has you and your compatriots riding in the LGCT on a global platform helped raise awareness?
A: It's not only helped our country, but it has helped the sport around the world. The LGCT has already moved the sport to another level. It makes a big challenge with the prize money, you can see the level of horses has become much higher, and it has changed the sport. And it's still going! Jan has ideas to develop this Tour more and more.
In Qatar specifically, we are quite a small country, but if you go there now you cannot imagine the list of young riders and juniors. It is a lot for our number in Qatar. They are really excited to be involved with our sport and most of them are looking to specialise in showjumping, particularly over the last few years. This we like as it is a sport we love.
Q: Let's talk about progress and development a little; the new Global Champions League will come in next year, how exciting is that for you and what will it mean for the sport?
A: I always believe in Jan. His ideas and what he does is right, and his vision is always true. As I said, he always has ideas to improve and develop our sport, and this is one of the ideas he has. I think it will make a big change in our sport and I love this idea [of team competitions]. We will have to look at how it will work next year but I'm really excited to see and to ride in it.
We did one class in Valkenswaard which was similar to the new format. It was fun and a nice trial and so I think it will be something exciting.
Q: Tell us a little bit about AL SHAQAB, we go to so many spectacular and unique venues around the world, how is this a fitting final venue to finish the season?
A: AL SHAQAB is a unique venue, and I'm not just saying so as it's in my country. Everyone who goes there and sees this venue understands it is something unique in our sport. There's not much I can say about it as you can see it for yourself and everyone can see just how special it is.
Q: How do you feel going into the final, you're 6th in the LGCT Ranking, what are you looking to achieve during the weekend?
A: I go into the final in 6th place, which I don't think will change a lot as the points count for only 8 out of the 15 shows this year. I'm really looking forward to try keep myself in this position and if I can move a little bit higher, for example, one or two spots would be good for me. I'm happy to be in my position now, and I hope that I finish the season even better.
Everyone comes, especially for the final, with their top horses, and it will be all the top riders coming. So it's going to be a really tough competition and everyone will have to work really hard. I've seen at some other recent shows that the riders have not always brought their best horses which I know go to the LGCT, so they are all saving them for this show. It's going to be really exciting. Tough competition, but exciting.
END