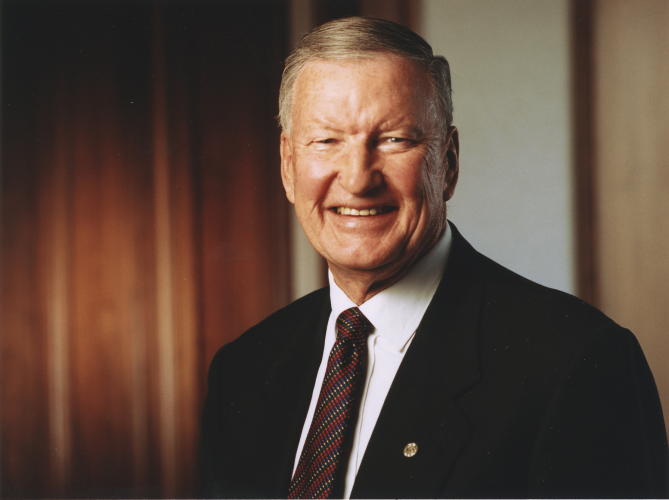 Via: FEI
Ron Southern, founder and Co-Chairman of Spruce Meadows, and iconic Alberta entrepreneur and businessman passed away Thursday morning at his home. He was 85.
Ron Southern and his wife Margaret (Marg) purchased Copithorne Ranch south of Calgary with the vision of establishing a world-class equestrian facility. Spruce Meadows was built for their two daughters, Nancy and Linda, who had long been involved in the sport. The Southerns opened the doors to Spruce Meadows in 1975 and hosted the first tournament the following year. Over the last 40 years, as a result of the leadership and vision of the Southern family, Spruce Meadows has become an iconic sports venue that is today recognised as one of the world's leading venue for international and national Jumping competitions, hosting 300 events annually.
Since the venue opened, riders representing 57 countries have earned $110 million in prize money in front of almost 10 million visitors. Ron Southern's daughter, Linda Southern-Heathcott, who competed in Jumping at the 1996 Olympic Games in Atlanta (USA), took over as president and CEO of Spruce Meadows in 2006.
An astute businessman, Ron Southern started the Alberta Trailer Company in 1947 with his father with only 15 trailers. It eventually became the ATCO Group, a Calgary-based conglomerate with interests ranging from construction trailers to pipelines to natural gas distribution. ATCO now has operations in more than 100 countries, 8,000 employees and $19 billion in assets. Ron Southern served as the company's president for 48 years.
Ron Southern's achievements were recognised with both Canadian and international awards. He was a Commander of the Order of the British Empire and received Canada's highest civilian honor when he was made a Member of the Order of Canada in 1986.
He was awarded a Member of the Order of the British Empire in 1990, in recognition of his promotion of Anglo-Canadian relations in the fields of commerce, culture and sport. In 2003 he was made an Officer of the Order of Canada and was promoted to Companion in 2006. He received a Queen Elizabeth II Diamond Jubilee Medal in 2012, as well as an Alberta Order of Excellence. Ron and Marg Southern were jointly-inducted into Canada's Sports Hall of Fame in 2006.
"It is with great sadness that we learnt of Ron Southern's passing", FEI President Ingmar De Vos said. "He was truly a remarkable man with a tremendous capacity for life and an incredible love of equestrian sport. His business acumen, passion, drive and vision, were evident in all facets of his life and were the characteristics that made Spruce Meadows such a hugely successful venue."
"He was an incredibly generous man and community leader who gave so much and made a lasting impression on everyone he met. His legacy will live on in the generations of athletes who compete at Spruce Meadows for many years to come. He will be sorely missed."
Ron Southern is survived by his wife Marg and two daughters, Nancy Southern and Linda Southern-Heathcott.
The FEI extends its sincere condolences to Ron Southern's family and many friends, to Equine Canada and the global equestrian community.
END