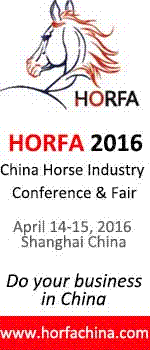 Via: HORFA 2016
Press Release
HORFA2016 China Horse Industry Conference and Fair will be held on April 14-15 in Shanghai. In order to improve the event quality, HORFA strives to do something new each time and this year it will create THREE resources sharing platforms.
Firstly, it will be a platform for developers/investors and vendors of horse industry. Because YUBO group has been serving the China real estate more than 15 years and accumulated plenty of resources in China real estate and finance industry. Furthermore, the property developers have had great impassions to construct small horse ranches in recent years. For example, there is a newly constructed horse ranch designed by Populous in the property project called Long Island of Greenland Group. Besides, the newly-opened Hao Yi Yun Equestrian Manor was also invested by a property developer who loves riding very much. The manor covers 100mu with the investment of over RMB 20 million and its horses are almost warm blood horses.
Secondly, it will be a platform for equestrian clubs/private horse owners and vendors of horse industry/horse dealers. According to an owner of an equestrian club in Hangzhou, it is not a busy season in March or April. Therefore, if there is any exhibition or events related horse industry, they would like to visit in order to get horse industry information domestic and abroad and looking for some business opportunities. Another coach general of an equestrian club in Wenzhou said he was informed that HORFA was changed to be held in April this year instead of Sept. each year and he was willing to visit because there will not be any important competition during the period.
Thirdly, it will be a platform for wealthy families/ equestrian lovers and equestrian clubs/saddlery. HORFA visitor pre-registration is always launched early each time and the first visitor of HORFA2016 registered online in Oct. 2015. The reason is more and more equestrian lovers pay more attention to HORFA and look forward to finding a right equestrian club for learning riding and buying suitable rider gears.
The above mentioned three platforms of HORFA2016 will drive the development of China horse industry, inspire the potential of the market and improve the communication and development of the horse industry domestically and abroad. We paraphrase one sentence from Chinese ancient poetry: Drainage asked Hsu why so many fishes, as to the source of flowing water.
Finally we quote Ms. Shepherd from Compass International, which is co-sponsor of HORFA2016: "We believe China horse market is a good market with a huge potential. We have not been able to penetrate the market yet because the language barrier makes it difficult to figure out who could be the right partners. We are very excited to see what HORFA, which started from 2010, will bring. We believe HORFA to be one of the best platforms in China where we hope to meet right clients and partners. Meeting people face to face and meeting potential partners is essential to make the right step into the Chinese horse market."
Looking forward to hearing more and see more at HORFA!
END