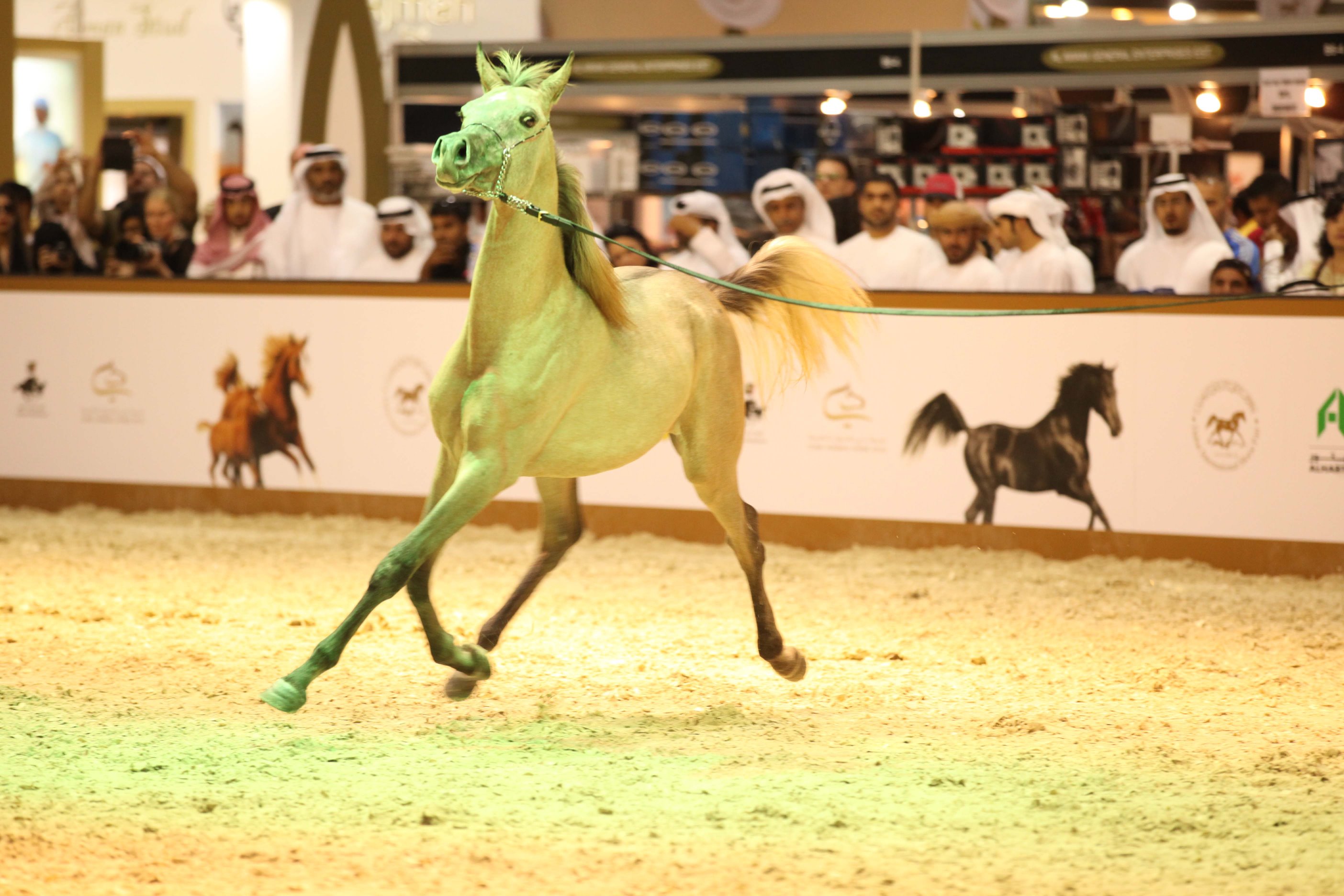 Family fun and entertainment lined up including pony show jumping, Spanish horse "ballet", equestrian art gallery, heritage village, polo demonstrations and more..from horse breeders, equine experts and renowned stables to novice riders and budding enthusiasts, Dubai International Horse Fair widens its appeal
Dubai, United Arab Emirates
The equine industry and horse devotees are making tracks to converge at the 12th Dubai International Horse Fair and 13th Dubai International Arabian Horse Championship, which kick off tomorrow (Thursday, 17th March). Held under the patronage of H.H. Sheikh Hamdan bin Rashid Al Maktoum, Deputy Ruler of Dubai and UAE Minister of Finance, the events run until 19 March 2016 at Dubai World Trade Centre (DWTC).
Dubai International Horse Fair brings together leading equestrian equipment companies, owners, breeders, stables, clubs, veterinarians, services and care products, professional and leisure riders and horse enthusiasts. The event is also set to enthrall families and the general public with polo demonstrations, an equestrian-themed Art Gallery, Spanish horse "ballet" performances, a Heritage Village and the Horse Auction for Arabian purebloods among others.
The Dubai International Arabian Horse Championship, which takes place alongside the Dubai International Horse Fair, is the most prestigious beauty competition for Purebred Arabian horses, from the very young to the elderly statesmen of the Arabian equine world. With prize money of USD4 million (AED15 million), the international Championship is set to attract strong attendance from owners and breeders around the world who are passionate about this majestic breed. The event takes place over three days culminating in the Championship classes for the most exquisite horses.
This year the event welcomes more than 200 exhibiting companies and brands from more than 20 countries including Bahrain, Oman, Spain, France, Germany, Russia, Kyrgyzstan, South Africa, India, Pakistan, Iceland, Ireland, Italy, Egypt, Slovenia, Taiwan, Canada, United Kingdom and United States. New participating countries include Iceland and Kyrgyzstan.
The popular Horse Auction, organised by Emirates Bloodstock, returns this year where Arabian purebred horses from local studs will be available for viewing, bidding and buying. Held from 2pm on Friday, 18 March, the auction will have over 100 pureblood Arabian horse breeds on sale. Prospective buyers and members of the public can feel the thrill of a live auction with prices and stock to suit every budget.
Pony Show Jumping at the show gives the most talented young riders across the UAE the opportunity to compete and is organised by Dubai Pony Club. Polo Demonstrations return this year where aspirant riders and members of the public can watch the best horses showcasing their impressive skills and learn more about polo etiquette.
A firm favourite are the Spanish Equestrian performances, which includes 30 minutes of heart pounding entertainment, which keeps audiences on the edge of their seats. Lead rider Diego Lopez brings his team of skilled, crowd-pleasing performers for a thrilling dressage routine.
The hugely successful Art Gallery specialising in equestrian works makes a comeback this year. The gallery gathers established global artists who will unveil their horse-inspired sculptures and paintings to art connoisseurs across the region.
The Heritage Village is also back again featuring traditional Bedouin houses, falconry, local dishes, henna tattoo artists and more.
Leading international and local companies and brands exhibiting a range of products and services to the burgeoning equine industry in the Middle East include: Ajman Stud, Al Hawajer Stud, Dubai Arabian Stud, Dubai Equine Hospital, Jebel Ali Racecourse, Mandara, Royal Cavalry and Shadwell Stud among others.
The Dubai International Horse Fair 2016 will be held in Halls 5 and 6 at Dubai World Trade Centre. Opening hours are 11am - 8pm on 17 March, 2pm – 8pm on 18 March and 11am – 8pm on 19 March. Admission is free of charge and open to trade visitors and the general public. Children under the age of 16 must be accompanied by an adult at all times. Pre-registration is now open at the show's official website www.dihf.ae.
About Dubai International Horse Fair:
www.dihf.ae

DIHF 2016 will be held from 17 - 19 March 2016 at DWTC. For the 12th consecutive year, the exhibition will serve as a forum for international manufacturers, distributors, retailers and equestrian enthusiasts.
DIHF will be held under the patronage of HH Sheikh Hamdan bin Rashid Al Maktoum, Deputy Ruler of Dubai, UAE Minister of Finance. The exhibition will once again be held alongside the Dubai International Arabian Horse Championship, a world-class competition for purebred Arabian horses.
With the region's largest display of equestrian equipment, services, products and interactive horse experiences, the three-day exhibition is expected to attract thousands of visitors.
About Dubai World Trade Centre (DWTC)
www.dwtc.com

As the organiser of the Dubai International Horse Fair 2015, Dubai World Trade Centre (DWTC) offers over 34 years experience of delivering world-class events in the Middle East, providing local, regional and international exhibitors with unmatched expertise and in-depth market knowledge. Our team organises 20 of the largest and most successful international and regional shows in Middle East, providing an ideal platform for business development in the region.
Our commitment to ongoing innovation within the exhibition industry has supported the rapid growth and development of a wide range of business-to-business and business-to-consumer shows, and delivered consistent satisfaction to exhibitors and visitors. DWTC works with the leading trade bodies and industry associations to ensure that all exhibitions deliver full value and are built upon the real needs of their specific sector.
--Ends--
Photo Gallery
Prev
1 of 4
Next