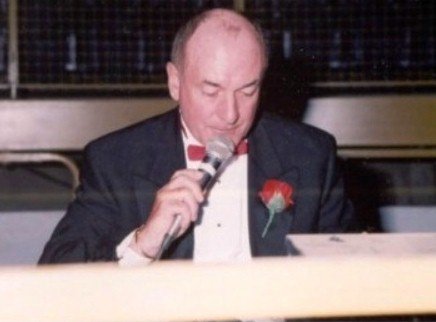 Frank Waters was born and educated in England. At the age of seven, he became interested in horse riding with Mary Bowler and started show jumping six years later. Waters rode for several international riders in England including Johnny Kidd, Lyne Smith-Barker and Valma Milner.
After riding for several years and training Grand Prix jumpers until the age of 21, he developed an allergy to horses. Being at a total loss, a friend suggested starting a career as a commentator at equestrian events. Waters' career as an equestrian commentator took off very quickly and in a short amount of time he was known as "The Man with the Golden Voice" throughout the British Isles.
During his nine years of commentating in Great Britain, he announced at The All England Jumping Course, Hickstead. He also announced at The Horse of the Year Show, Windsor Park Equestrian Club, Halifax, Doncaster Show Jumping Series, Bennington, Arena North, Vibart Show Jumping Club, Knebworth Park, Morpeth Equestrian Center and Belvoir Hunt Supporters Club Shows among many others.
Having established himself as a prominent international equestrian announcer, he made a guest appearance at the Santa Anita Horse Show in California. After this experience, he totally fell head over heels in love with the United States and moved there one year later. On December 19th of 2000, he became a "Millenium American Citizen", one of the days he is most proud of in his life.
In December 2011, Waters was the Equestrian Announcer for the Pan Arab Games in Doha, Qatar. Waters continues to travel extensively after more than 40 years announcing all disciplines in the equestrian world.