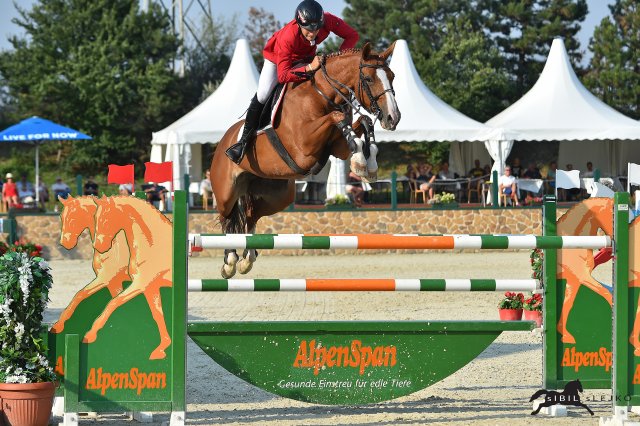 Via: pferdenews
Joy cheering for the home team! -Lisa Maria robbers and Leonard Platzer be after her three clear rounds at the fourth and fifth place overall.
After her phenomenal performances in the free days Nations and the opening competition on Wednesday, the two young Austrian rider Lisa Maria robbers and Leonard Platzer held up the red-white-red flag.Their luster rounds catapulted the domestic medal hopes at fourth and fifth place overall Junior individual classification.
The stylist Lisa Maria starts in December 2014, the Austrian flag and is located in Bisingen (Hohenzollern). There she cared for her six horses that she trains with her coach Kurt Meyer. These six horses also includes "Cuyano", a nine-year-old descendant of Catoki, which incidentally was brought to the Home Again as part of the junior championship. Self-critically, they had the time together revue happen again and states that it has yet needed one year to adapt to each other. This was followed in quick succession as the successes of the first S-victory or triumph in the EY Cup Finals of Graz. In the Lake Arena she was pleased with her debut on EM knotless appearances and sat with three zero error Renon before the final a more than strong character. "It would be really cool if I would stay in the fourth position, but one can not predict how it will then go out unfortunately." Lisa Maria says with a grin and thanked in the same breath with their parents and their coaches without whose support and help this beautiful success would not be possible.
The 14-year-old chestnut mare "Nausica Tame" is not an unknown for insider Horse: Under Markus Renzel, Dieter Köfler and Anton Martin Bauer collected the Flipper d'Elle subsidiary success in major sports and now stands as the last year with Leonard places a strong unit , "At the beginning it was not so easy to keep always in control. It's just important to have the horse on his side and that's why we get along very well with each other and rightly so. She draws on the course and are always a tremendous security. "Leo describes his ingenious mare. That the pressure in the home-EM does not have to be necessarily greater explains Alpenspan team riders so: "To be honest it was said the pressure is less, because I know the Patz and the area in Wiener Neustadt and therefore the euro Feeling is not so great , Maybe that was the key to success. Special thanks to my sponsor Alpenspan, my parents and family meal who support me every day mentally, and of course my coach and team boss Anton Martin Bauer. "And how it looks in the final? "Honestly, it will decide the fate. It would be a sensation if we would make a medal. But we have already achieved so much and that alone is a huge success. "When you consider that he's still got a few weeks ago at the State Championships in Linz with refusal and drop into the target and this week so far shone solely with zero laps en suite you have to prove him right: It can easily happen.
--End--