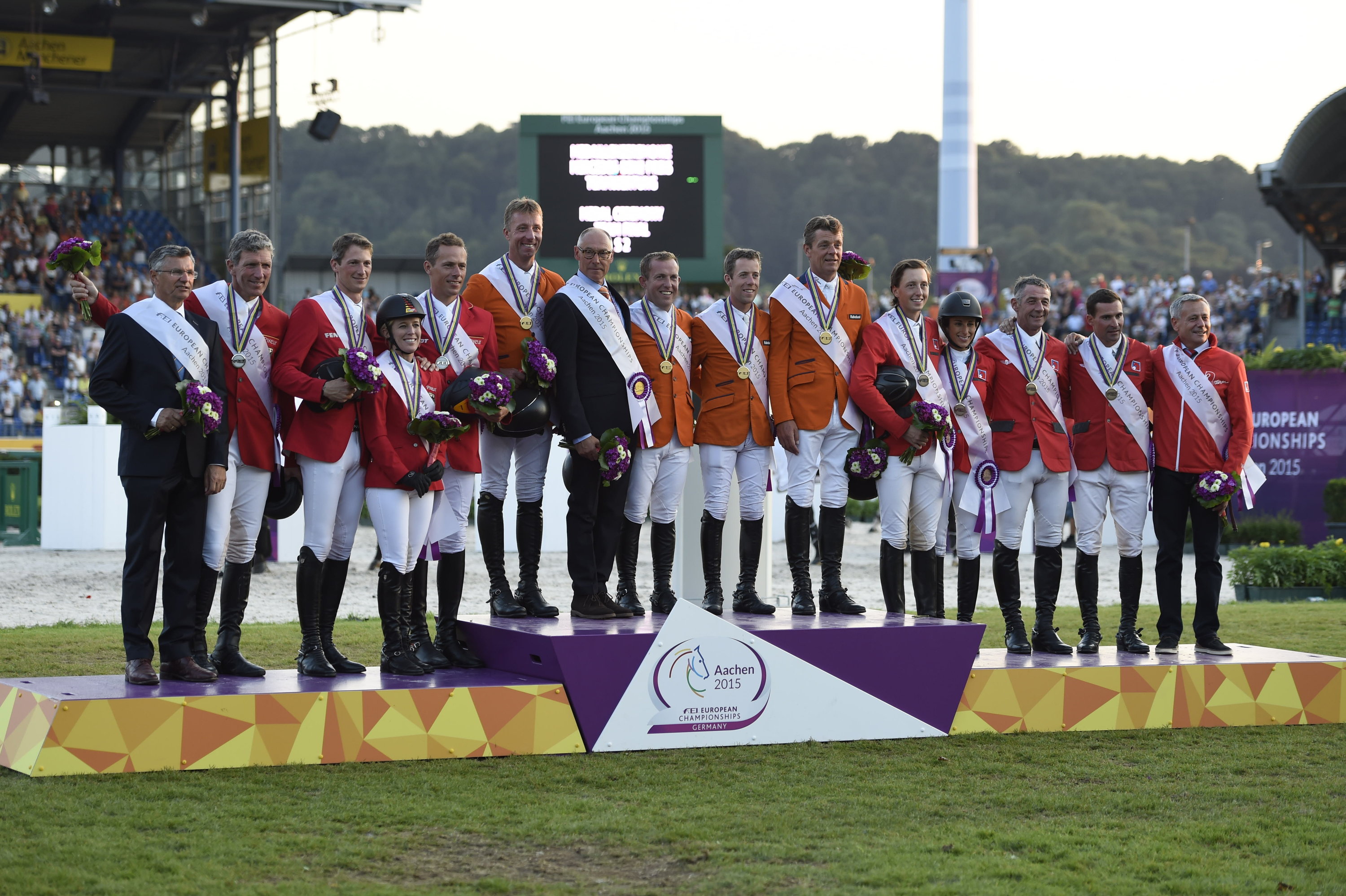 Via:Revolution Sports + Entertainment
In a sun bathed Aachen arena, in front of a sell-out crowd of 40,000 spectators, the all-conquering team from the Netherlands won the Team competition at the FEI European Championships. The team of Jeroen Dubbeldam, Maikel van der Vleuten, Jur Vrieling and Gerco Schroder, the same four riders who so memorably won the gold medal at the FEI World Equestrian Games in 2014, put on an outstanding team performance accumulating only one time penalty between the three riders who's scores counted towards the final result.
It was all change in the Individual competition, with Spain's Sergio Alvarez Moya taking over the lead, then a brilliant clear round propelled Cassio Rivetti from Ukraine into second place leaving Jeroen Dubbeldam in third.
The remaining medal places in the Team competition were claimed by Germany in second and Switzerland, who performed a remarkable recovery following a disappointing performance on the first day of competition, in third. With the Dutch, German and French already qualified for Rio in 2016, they will now be joined by Switzerland, Great Britain, who finished in fourth place and Spain who finished sixth.
On a day that featured 10 clear rounds, the Individual competition saw the overnight leader Penelope Leprevost swap standings with fifth placed Sergio Alvarez Moya, who is enjoying an outstanding Championships so far. The Jumping competition now enjoys a rest day, with the Individual final taking place on Sunday 23rd August.
Final Results, Team Competition
Netherlands
Germany
Switzerland
Great Britain
France
Individual Standings following 2nd Individual qualifier
Sergio Alvarez Moya/Carlo 273 (ESP)
Cassio Rivetti/Vivant (UKR)
Jeroen Dubbeldam/SFN Zenith N.O.P. (NED)
Romain Duguet/Quorida de Treho (SUI)
Penelope Leprevost/Flora de Mariposa (FRA)
Quotes:
Jerome Dubbeldam (NED)
"This team is unbelievable, and it's amazing to be part of this team. Everyone in this team watches as an individual, we leave each other alone and that is the strongest point about this team, as everyone knows what they have to do. Everyone knows their horses best and in the night we go and eat and have fun together, and during the day everyone does their own thing."
Sergio Alvarez Moya (ESP)
"I don't think about a lot that is going on actually, I just try and jump as many clear rounds as possible and my horse is jumping great. I'm so happy for myself and all my team mates for the Olympic qualification. We do not have so many horses and riders in Spain, so it's quite a big effort for all of us just to get the horses ready. We are only four or five riders, so always have to rely on each other if one does not jump so well."
Meredith Michaels-Beerbaum (GER)
"My horse is wonderful and he was really fighting for me today. It's an incredible feeling to ride in this arena, with so many people cheering for you and praying for you - I really enjoyed the day."
--Ends--
Photo Gallery
Prev
1 of 4
Next