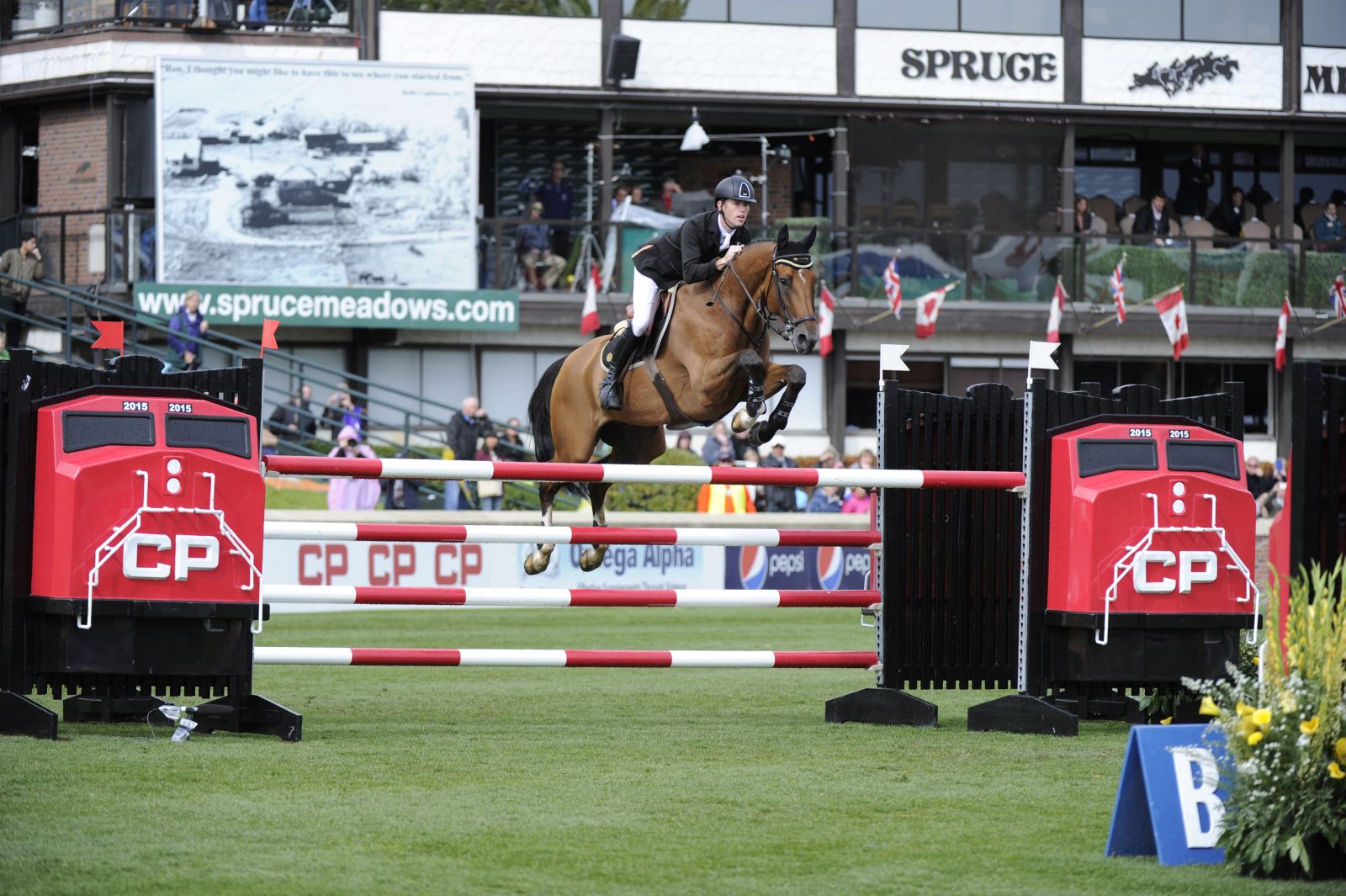 Via: sprucemeadows
The 40th Anniversary Season at Spruce Meadows included annual attendance of over 500,000 fans, the awarding of more than $8million of sponsor funded prize money, worldwide media attention and a roster of athletes representing 25 nations from 6 continents.
With the Holiday Season and a New Year quickly upon us, Spruce Meadows is pleased to be able to confirm its 2016 calendar and schedule for FEI sanctioned tournaments.
For the first time ever Spruce Meadows will offer a schedule of four 5*CSI Tournaments during its very popular Summer Series. These tournaments are sure to serve up top championship sports and provide excellent previews, as well as individual and team preparation opportunities, for the 2016 Summer Olympics scheduled for August.
For those not bound for the Olympic Games, or not yet competing at the top of the sport, the 2016 Spruce Meadows schedule is also being designed to provide the very best competitive experience for junior and amateur riders as well as young horses. An all new U25 Grand Prix series promises to show case the very best young riders in the sports.
The 2016 Summer Olympiad to be held in Rio August 5-21 will impact many historic dates and schedules in the sport, particularly those historically scheduled for late July and August. Spruce Meadows is fortunate to be able to organize its FEI Tournament schedule to include:
The Spruce Meadows 'National', presented by Rolex June 8-12
The Spruce Meadow 'Continental' June 16-19
The Spruce Meadows 'Pan American', presented by Rolex June 29-July 3
The Spruce Meadows 'North American July 6-10
The Spruce Meadows 'Masters' CSIO 5* September 7-11
"We are thrilled to be able to offer athletes that represent many levels of our sport a schedule that will allow them to compete at four major CSI five star events during our Summer Series", said Spruce Meadows President and CEO Linda Southern-Heathcott.
"The prize money we are able to offer will be better than ever, and our team here at Spruce Meadows will continue to on the quality of the product we offer. The amazing support from our corporate partners, the fans, the media and the athletes make this a very special and unique venue and we look forward to carrying on with the great momentum and spirit we have built over the last 40 years."
Heathcott adds, "The global calendar for our sport can become somewhat crowded at times, especially during an Olympic year. We are fortunate to be able to organize our Summer Series to continue to offer top sport and world leading grand prix events well in advance of the Games, while still allowing the athletes the opportunity to compete at Aachen (GER) in the Rolex Grand Slam of Show Jumping event following the conclusion of our Summer Series. This schedule still provides a full month until the show jumping events at the Olympic Games."
Following the Olympic Summer Games horses and riders will have nearly a month prior until the start of competition at the Spruce Meadows 'Masters' CSIO 5*. This event has become a true Major in the sport over the last 4 decades and features the BMO Nations' Cup and CP 'International' presented by Rolex.
In 2015 Scott Brash (GBR) made history with his memorable victory in the CP 'International' by being the first rider ever to lay claim to the Rolex Grand Slam of Show Jumping. In a period of ten months Brash rode Hello Sanctos to consecutive Grand Prix wins in Geneva (SUI), Aachen (GER) and Spruce Meadows (CAN) to achieve what many thought was impossible.
Official 2016 Spruce Meadows Schedules and Prize Lists will be available early in the New Year.
END