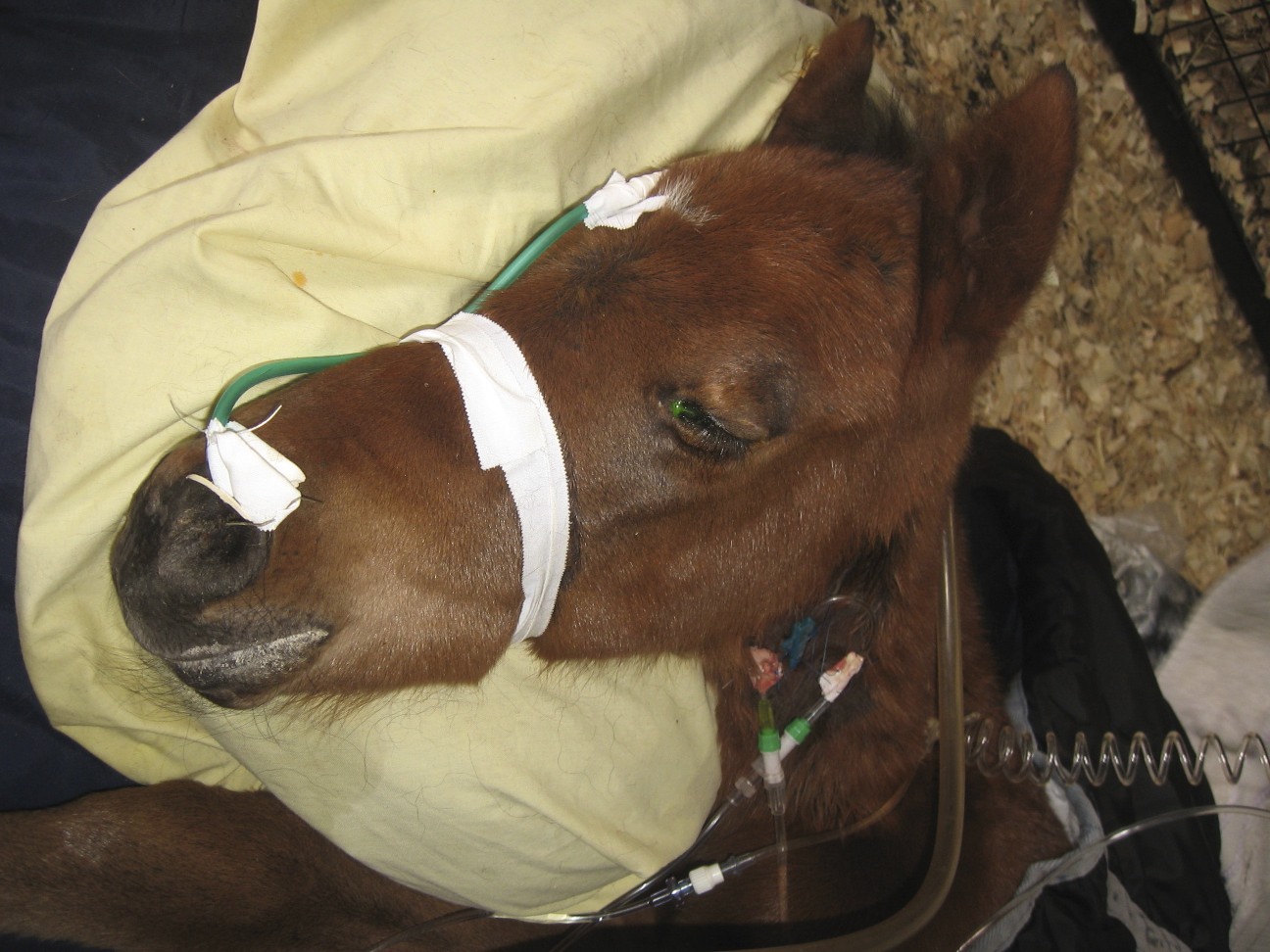 Equine Veterinary Journal Early View March 2016
Heather Ferguson
Factors associated with outcome in 94 hospitalised foals diagnosed with neonatal encephalopathy
Lyle-Dugas J., Giguère S., Mallicote M.F., Mackay R.J. and Sanchex L.C.

This retrospective cross-sectional study aimed to determine the factors involved in outcome of foals hospitalised for neonatal encephalopathy (aka neonatal maladjustment syndrome and dummy foals). The clinical records of 94 foals (less than 14 days old at admission) were included in the study. Clinical information was subjected to statistical analysis, including signalment, vital signs at admission, clinical signs throughout hospitalisation including signs of neurological dysfunction, laboratory variables and the duration of clinical events. The diagnosis of neonatal encephalopathy was made on a clinical basis.
Of the 94 foals, 75 (79.8%) survived to discharge from the hospital. The most commonly recorded clinical signs were abnormal udder seeking, abnormal suckling, inability to stand, abnormal gastrointestinal motility, abnormal consciousness and seizures. In 14 foals, neonatal encephalopathy was the sole diagnosis. In the others, concurrent conditions reported were sepsis, pneumonia, prematurity/dysmaturity, patent urachus, limb deformity, colic and uroperitoneum.
Of the 19 non-survivors, 4 died and 15 were euthanased. Post-mortem reports were available for 17 of which 11 had severe pneumonia, disseminated sepsis or sepsis-related complications. Microscopic examinations of brain sections were available in 11 cases and 10 showed neuronal necrosis or degeneration consistent with ischaemia. Factors which were significantly associated with non-survival in the multivariable logistic regression model were high total calcium concentration, low alkaline phosphatase activity, an increased number of co-morbidities, recumbency and the requirement for vasopressor therapy. Non-survivors were more likely to have received treatment with vasopressors, or received mechanical ventilation or respiratory stimulants than survivors. A wide range of medical treatments were used by different clinicians and no other therapeutic intervention was significantly associated with non-survival supporting the clinical impression that the quality of nursing care is most crucial to survival.
Bottom line:
The prognosis for foals with neonatal encephalopathy in this study was good. No single therapy was shown to improve survival. High calcium and low alkaline phosphatase concentrations were found in nonsurvivors. Recumbency, multiple co-morbidities and use of vasopressors to treat hypotension are significantly associated with non-survival.
--Ends--