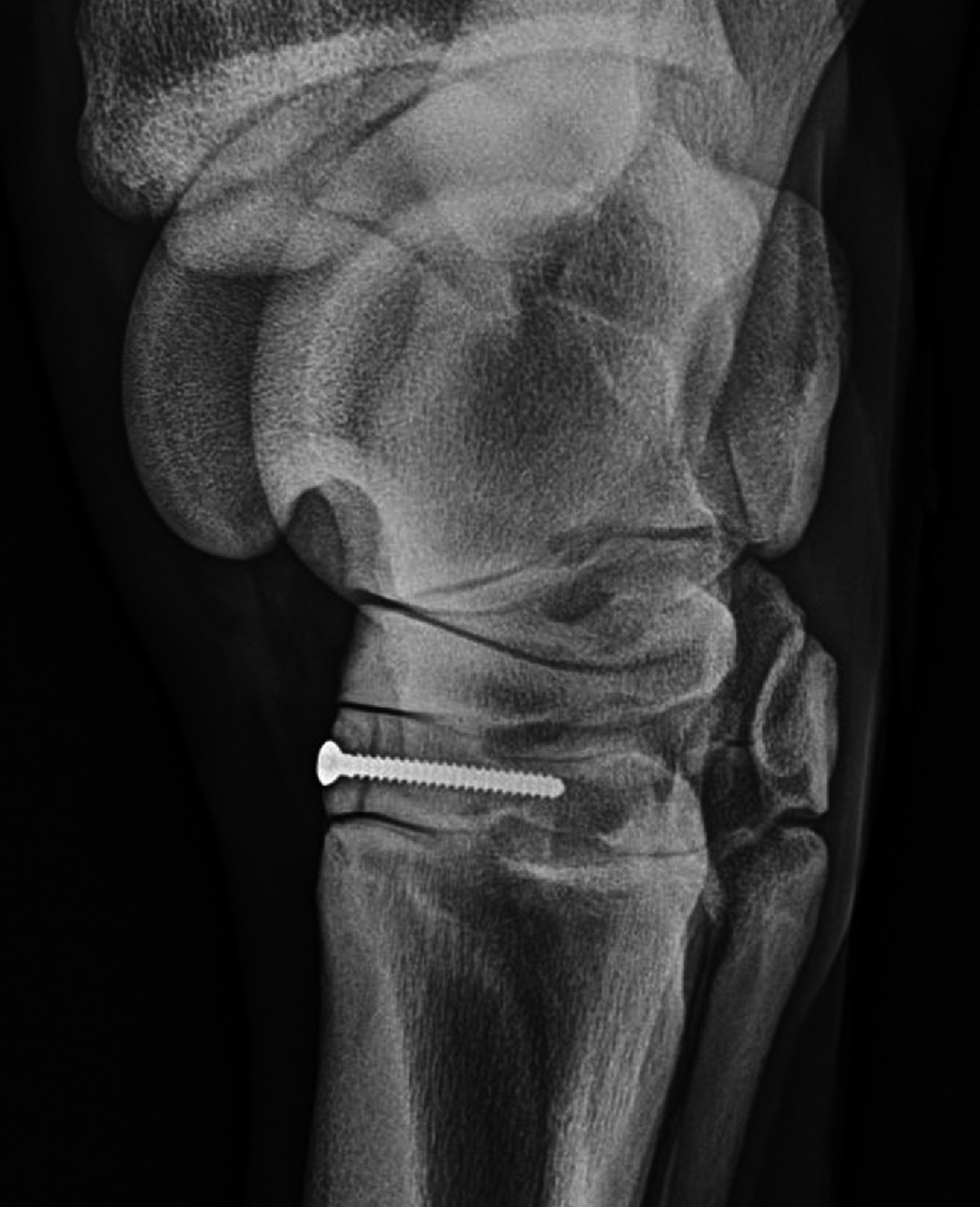 Equine Veterinary Journal Early View March 2016
By Heather Ferguson
Slab fractures of the third tarsal bone: Minimally invasive repair using a single 3.5 mm cortex screw placed in lag fashion in 17 Thoroughbred racehorses

Barker W.H.J. and Wright I.M.
Slab fractures of the third tarsal bone were repaired surgically in 17 Thoroughbred racehorses between 2009 and 2014 at a single hospital facility. The aim of surgical repair was to effectively compress the fracture, reduce secondary osteoarthritic changes and potentially reduce the time before return to training compared with conservative management.
Preoperatively, several radiographic views were taken until an optimal projection showing a single fracture line was obtained. This was used for surgical planning and intraoperative guidance. The fracture was displaced in 12 cases. A 'wedge-shaped' third tarsal bone has been thought to contribute to stress fractures; however, this conformation was present in only 3 cases. Periarticular new bone formation, loss of trabecular pattern, loss of bone density and loss of subchondral bone plate definition at the fracture site were present in several cases.
Surgical repair was performed under general anaesthesia with the affected limb held in extension. The proximal and distal margins of the fracture were defined by percutaneous needle markers. The area between these markers and the long and lateral digital extensor tendons was used to access the third tarsal bone. An 18 gauge spinal needle was placed in the centre of this area in line with the required trajectory of the implant screw. A vertical stab incision was made at the spinal needle. Under radiographic guidance, a glide hole was created along the spinal needle to the fracture site. A 2.5 mm thread hole was drilled before insertion of a 3.5 mm cortical screw. Fracture compression was confirmed radiographically and the skin incision closed.
Post operatively, horses were confined to a stable for 1–5 (median 4) weeks, before starting twice daily walking exercise for a minimum of 4 weeks. Then trotting exercise increased over 4 weeks before horses re-entered training.
Eleven horses (64%) raced post operatively (of which 5 had raced previous to surgery), 3 horses remained in rehabilitation, 2 were in training but had not yet raced and one had retired to stud. The mean time from surgery to first race was 7 months. Radiographic follow-up was performed in 15 horses. All fractures were healed at 4-6 months post operatively. In cases where loss of trabecular pattern, bone density or subchondral bone plate definition had been a feature, these progressively improved with fracture healing. New bone formation progressed in 5 out of 5 cases and occurred post operatively in one case.
Bottom line:
Lag screw fixation of slab fractures of the third tarsal bone in racehorses is effective for stabilisation resulting in good rates of return to training and racing.
--Ends--