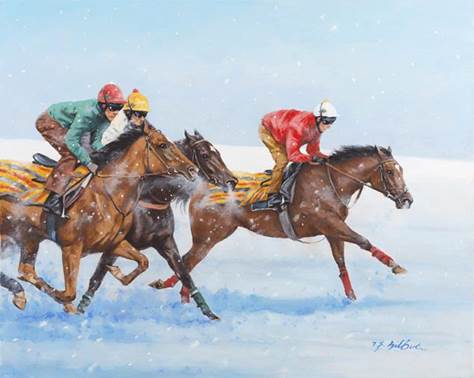 A light hearted look at the race course.
Terence Gilbert's father worked at the National Gallery. As twelve year old lad, he was granted special permission to copy Old Masters and study their techniques.
After formal training at Camberwell School of Art, he worked as a freelance illustrator, producing film posters, advertisements for airlines and tyre companies, also many book covers, with a skill and panache worthy of the finest American graphic artists. An art critic writes : 'His knowledge of structure and anatomy has enabled him to portray the bodily tension of a sporting or theatrical moment: the leap of a ballet dancer, a jockey's balance on a race horse.'
Private collectors bought originals of his book covers, depicting horses and riders against the sublime landscape of the American West. They were also selected for display at the Museum of Western Art in Colorado.
In the seventies he painted, the National Guard of Saudi Arabia & Sheikh Mohammed al Maktoum. Notable collectors and commissions include Sheikh Zayed of Abu Dhabi, Sheikh Khalifa al Thani, Emir of Qatar, Emir of Bahrain, H.M The Sultan of Oman, Sheikh Mohammed al Maktoum
In the nineties Terence moved on to high profile equestrian subjects: retired Masters of Foxhounds, Derby winners, Yeats, four times winner of the Ascot Gold Cup, and HM The Queen's visit to Coolmore Stud.
He has exhibited in the United States, Saudi Arabia, Oman, Royal College of Art, Society of Equestrian Artists, and The Royal Academy Touring Exhibition in Dubai.
The Osborne Studio Gallery, the best source for equestrian art in London, hosts his forthcoming exhibition: many paintings express a light-hearted vision of the racecourse. Hope that you might want to talk to Terence, he is a delightful person.
--Ends--
Photo Gallery
Prev
1 of 6
Next