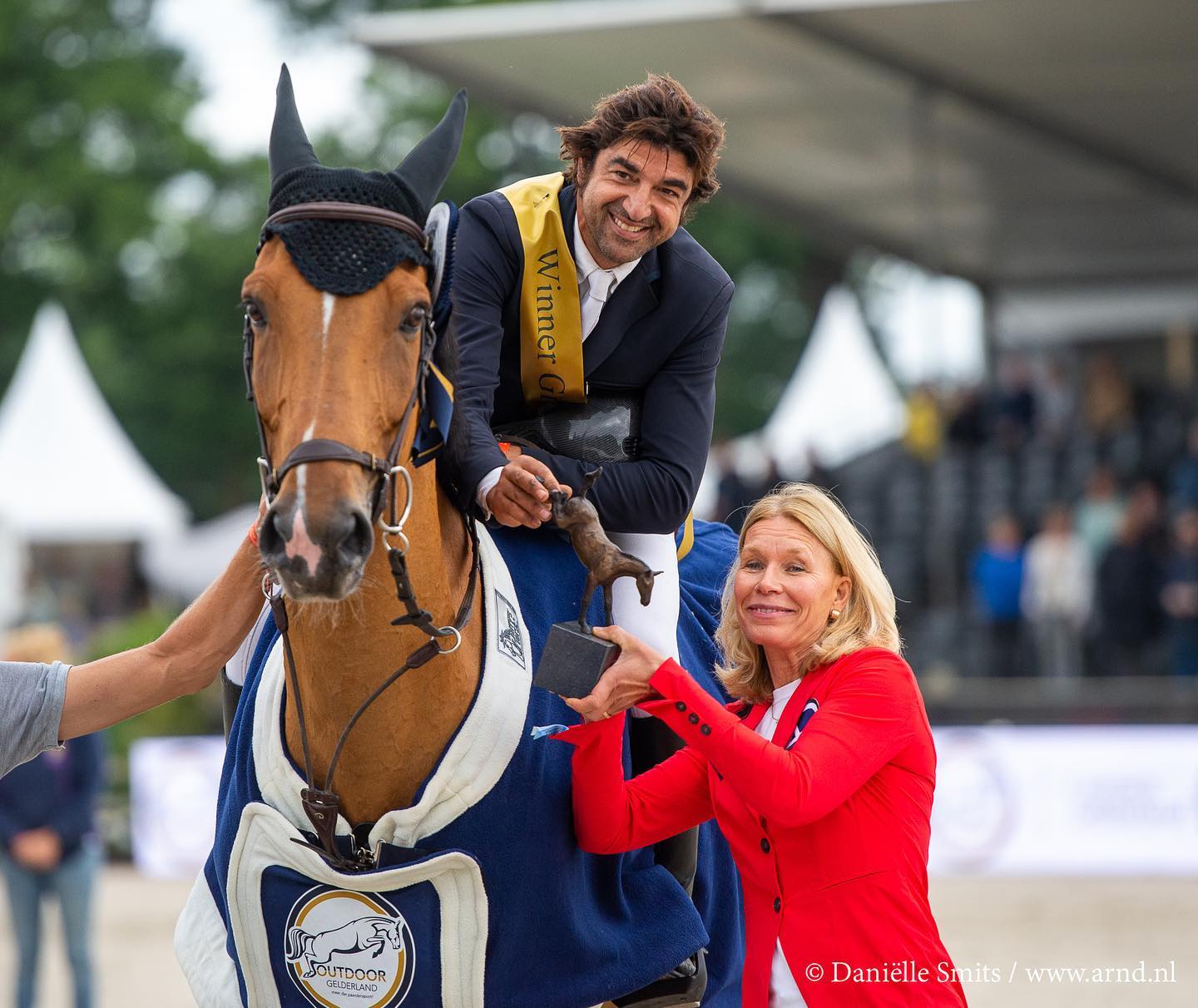 El Zoghby surprises himself: 'Never thought I would be faster'
"How long has it been since I won a Grand Prix? Let's think…" Karim El Zoghby shrugs. "I don't know, I was often second. Yes, it took a long time." The winner of the 1.55m Grand Prix of Outdoor Gelderland is beaming. He hadn't even expected it himself, although no one should underestimate the Egyptian. El Zoghby has already competed at the Olympic Games three times and only missed a single edition of Outdoor Gelderland because he was in the top 50 in the world ranking of show jumpers and received invitations to 5-star competitions.
Outdoor Gelderland is a 3-star competition. "But I can tell you that some 5-star competitions don't do as well as here. Many organizations can learn from this. They've done a great job of it," praises Karim El Zoghby.
Dutch Egyptian
What not everyone knows is that the Egyptian has his stable in Velp and speaks Dutch well. "I am a Gelderlander in my heart", he laughs. The Province of Gelderland Prize earned him 15,000 euros. After a few tropical days, the public was treated to an exciting Grand Prix on a cool Sunday afternoon. Five made it through to the jump-off. Irishman Daniel Coyle, in training with Jeroen Dubbeldam with a view to the European Championship, immediately kicked off strongly and would finish second.
Seven Mile Passes
"I never thought I would be faster," says Karim El Zoghby. His secret: The seven-mile passes of his twelve-year-old horse Zandigo (Zento). "He wants to do well, but it's not a winner and he's something special to ride. I always have to give him a lot of space in front of the fence and a lot of time, but a plus is his scope and great canter. It's only been the last few weeks that I've been trying to ride him a little faster so that he becomes more competitive. That worked. I'm happy. Zandigo makes me a better rider again. Every horse is a new school for a rider, I always say. You always learn to do new things, to get the most out of your horse."
Off to the World Cup
"What is my plan now? The World Equestrian Games, yes, with this horse! He likes high obstacles" laughs El Zoghby. It was an international group in the last award ceremony on Sunday. The German Holger Hetzel finished third with Lazio with a nice clear round. Leon Thijssen ran up and finished fourth on For President, followed by Van Schijndel's Gladstone with Piet Raijmakers Jr., who gained a lot of fans through the Anemone Horse Trucks Dressage Gala. Together with Anky van Grunsven he showed in a humorous way how a showjumping horse improves with dressage training.
Source: Press release Outdoor Gelderland / Wendy Scholten