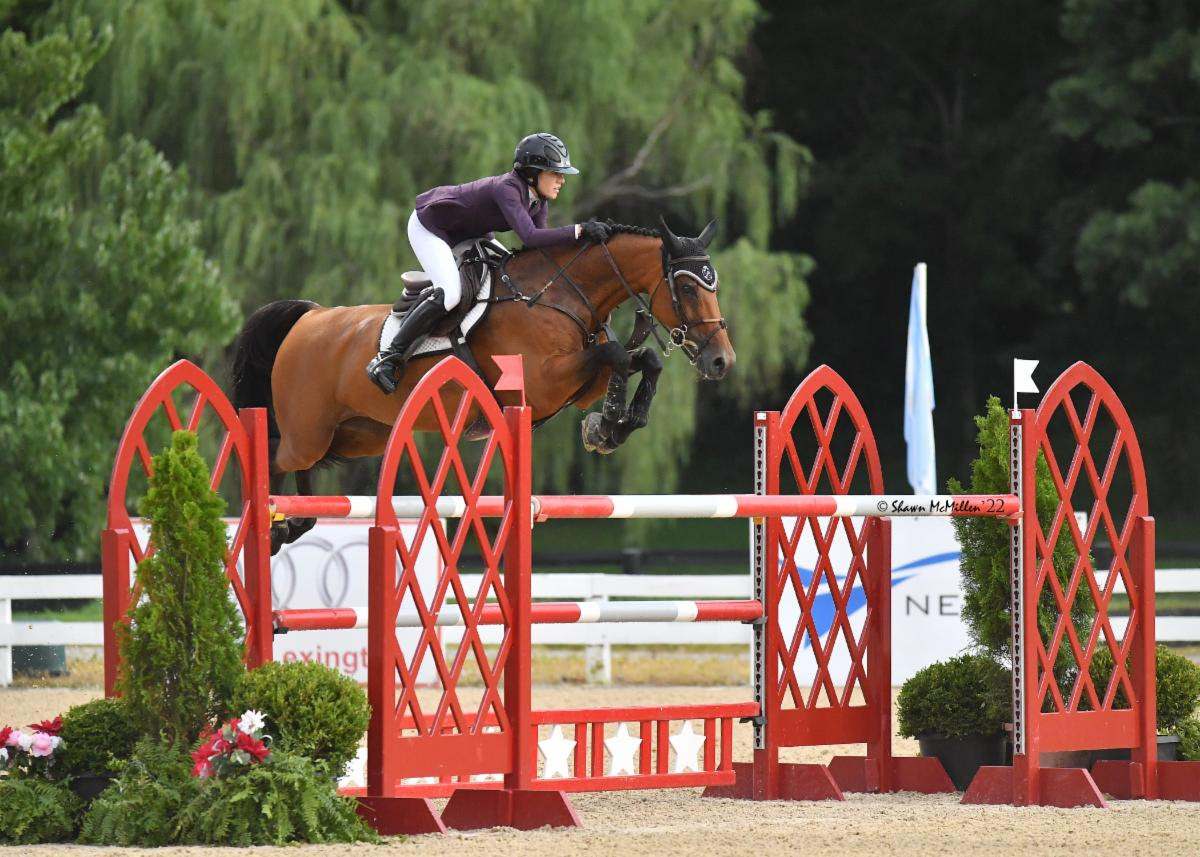 Lacey Gilbertson and Byzance Mail Seal the Deal for the $50,000 Rood & Riddle Grand Prix at Kentucky Summer
The feature event of the Kentucky Summer Horse Show, the $50,000 Rood & Riddle Grand Prix, was held Saturday evening in the Rolex Stadium with an enthusiastic crowd ready to cheer on the field of competitors. Six horses advanced to the tiebreaker with clear rounds, but only five were able to master the jump-off course. In the end, Lacey Gilbertson secured the victory aboard Byzance Mail, while Jimmy Torano and Chewbacca had the second fastest time and Michael Desiderio and Le Muguet rounded out the top three.
Eighteen athletes gathered at the Rolex Stadium to compete over Manuel Esparza's (MEX) course. The set course was complex and required riders to utilize proper flat work in the turns to exhibit the best jumps out of their mounts. Lacey Gilbertson and Byzance Mail, owned by Seabrook LLC, had the most brilliant ride of the field. Not shaken by the high stake environment, the pair proved that they are a powerhouse. With perfect equitation, Gilbertson was able to ride the 11-year-old Selle Francais mare to two perfect rounds. The highly schooled mare took to the track with ease, settling into the atmosphere quickly and rising to the challenge without hesitation. Though others tried to overtake Gilbertson's lead, none were successful, resulting in Gilbertson's victory.
Jimmy Torano and Chewbacca entered the ring, eager to make a tidy and clear effort. Torano and the 10-year-old Holsteiner gelding stayed on Gilbertson's heels through the entire class. In effort to best the leading partnership, Torano left out numerous strides to compete for the first place position, but chose to take a more conservative track on the inside turns, resulting in the red ribbon.
Michael Desiderio and Le Muguet came in prepared to fight for their spot on the podium. To take the top spot, the pair needed to be quick and clear to take over Gilbertson's lead. The Kentucky sunset was the perfect scene for the stunning 11-year-old Belgian Warmblood stallion as he was powerful and did not crack under the pressure. The duo put in two energetic rounds in exemplary jumper fashion. Utilizing the stallion's speediness, Desiderio made all of the difficult turns; however, was just shy of Gilbertson's winning time, settling them into the third place spot on the leaderboard.
RESULTS
$50,000 Rood & Riddle Grand Prix
Place / Horse / Rider / Owner / R1 Faults | Time / R2 Faults | Time
1. Byzance Mail / Lacey Gilbertson / Seabrook LLC / 0 | 84.554 / 0 | 36.363
2. Chewbacca / Jimmy Torano / Jimmy Torano / 0 | 82.809 / 0 | 37.9240 | 37.924
3. Le Muguet / Michael Desiderio / Blue Rhode Inc. / 0 | 83.673 / 0 | 39.325
4. Icarus / Francisco Goyoaga Mollet / Strasburg Morin Inc. / 0 | 83.825 / 0 | 40.393
5. Any / Kady Abrahamson / Abrahamson Equestrian LLC / 0 | 83.773 / 8 | 41.971
6. Kochio Z / Jimmy Torano / Jimmy Torano / 4 | 79.788
7. Florida N / Jack Hardin Towell / Jack Hardin Towell / 4 | 81.588
8. Caraghs Quality Lady / Anna Beth Athey / Anna Beth Athey / 4 | 81.720
9. Vancouver / Kady Abrahamson / Abrahamson Equestrian LLC / 4 | 82.170
10. Kassiodam / TJ O'Mara / Caroline Blake / 4 | 83.389
11. Gabrovo / Summer Hill / Susan Van Lammers / 4 | 83.600
12. Navarro DL / Sayre Happy / Nicolette Hirt / 5 | 85.252