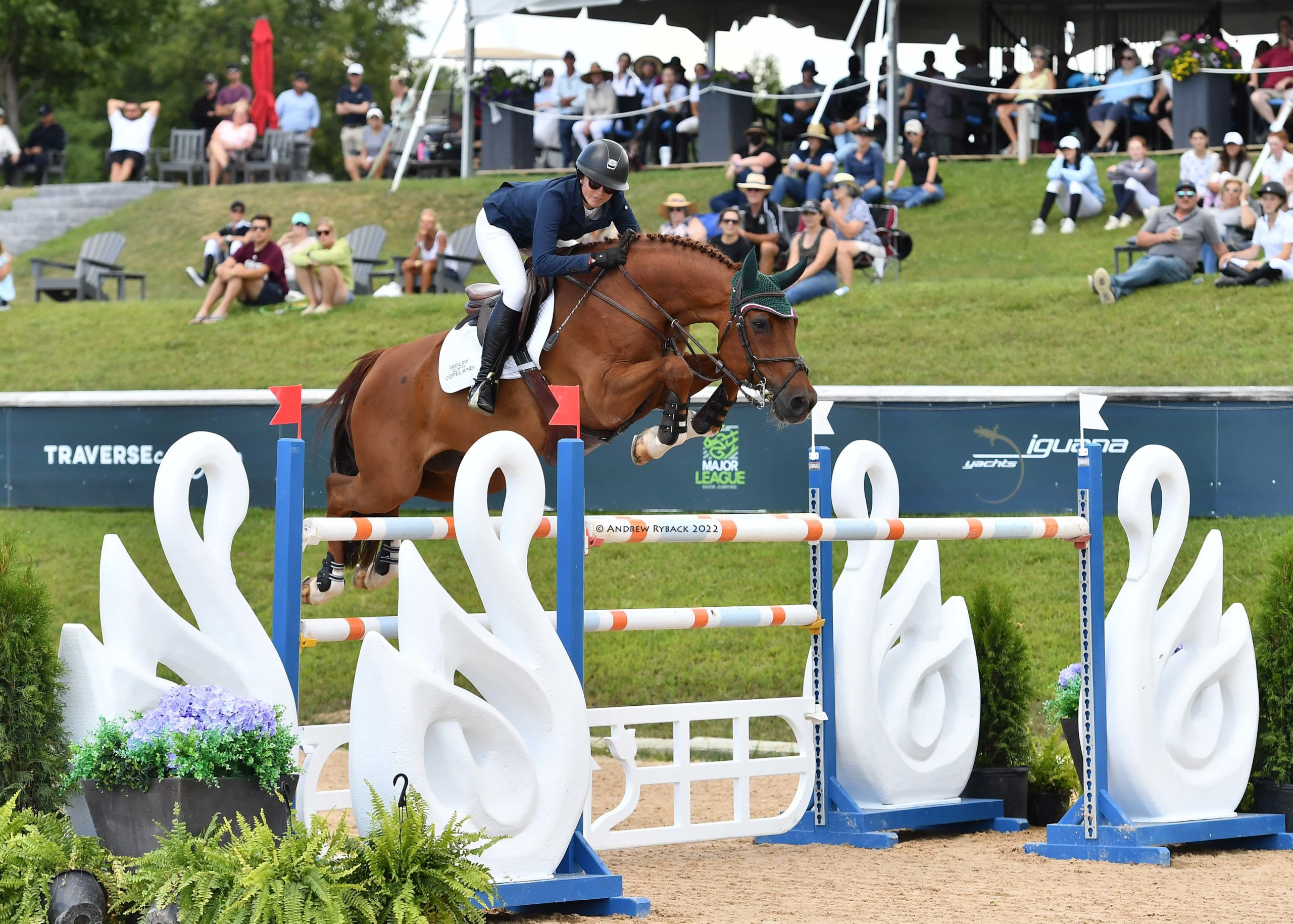 Ali Wolff and Casall Command $138,600 CSI3* Grand Prix
Ali Wolff (USA) has always known her partner Casall is dependable, and their partnership proved picture-perfect yet again as the pair flew to a win in the $138,600 CSI3* Grand Prix to close the fourth week of the Great Lakes Equestrian Festival, presented by CaptiveOne Advisors.


Brazil's Marina Azevedo built a tough track for round one, leading to only four clear rounds from 29 entries. Several finished just on time faults and managed to take a top-10 result, but the four on clear rounds went head-to-head for the top prize. Jim Ifko (CAN), as first to go, took down two rails with a quick time of 48.63 seconds, ultimately taking third. Wolff, aboard the 17-year-old Holsteiner gelding (Casall x Capitol I) took down one rail in her effort but came home in 47.09 seconds, leaving the door open for a double-clear round to take the lead.
Last to go, Georgina Bloomberg (USA) kept the pace steadier while hoping for a double-clear round, but a rail midway through the track put her on the same score as Wolff, ultimately coming up just short in 53.53 seconds, awarding Wolff the win and putting Bloomberg in second place.
"It was nice to only have four in the jump-off, so we knew we could all take a bit of a risk and still get a decent paycheck," Wolff said of her plan with Casall. "He just keeps learning and getting better and better. At 17, he's still learning and he's also so smart. He knows me so well and what I try to ask of him. He'll do everything I ask of him and more."
Final Results: $138,600 CSI3* Grand Prix
1. CASALL: 2005 HOLST gelding by Casall x Capitol I
ALI WOLFF (USA), Blacklick Bend Farm: 0/4/47.09
2. TULARA COLMINE: 2010 AUSWB stallion by Colman x Quinar Z
GEORGINA BLOOMBERG (USA), Gotham Enterprizes LLC: 0/4/53.53
3. UN DIAMANT DES FORETS: 2008 SF stallion by Diamant De Semilly x Papillion Rouge
JIM IFKO (CAN), Eventyre Farms Ltd.: 0/8/48.63
4. DICAS: 2009 RHEIN gelding by Diarado x Cassini I
MARGIE ENGLE (USA), Gladewinds Partners, LLC: 0/18/70.39
5. LANDON: 2013 ZANG gelding by Comilfo Plus Z x Quadrillo
KENT FARRINGTON (USA), Haity McNerney: 1/79.10
6. AROME: 2010 SF gelding by Norway De La Lande x Attila III
CATHLEEN DRISCOLL (USA), Plain Bay Farm: 2/80.25
7. ANIBALE DE HUS: 2010 SF stallion by Conrad x Argentinus
SARAH SCHEIRING (USA), Bellwyn Farm LLC: 2/80.38
8. HELIOS VD NOSAHOEVE: 2012 KWPN stallion by Numero Uno x London
ALEX GRANATO (USA), Kisma Equestrian, LLC: 4/75.96
9. CAILLOU 24: 2007 HOLST gelding by Casall x San Patrignano Corrado
KARL COOK (USA), Signe Otsby: 4/76.55
10. KAMILLA D: 2011 SCSL mare by Kashimir Van Schuttershof x Canturo Bois Margot
NATALIE DEAN (USA), Marigold Sporthorses LLC: 4/76.77
11. OAK GROVE'S DESPERADO: 2013 SF gelding by Diamant De Semilly x Lux Z
NICOLETTE HIRT (USA), Iron Horse Equestrian: 5/79.86
12. CARISSIMO 25: 2013 HOLST gelding by Cascadello x Clinton
MAVIS SPENCER (USA), Georgy Maskrey-Segesman: 5/79.97