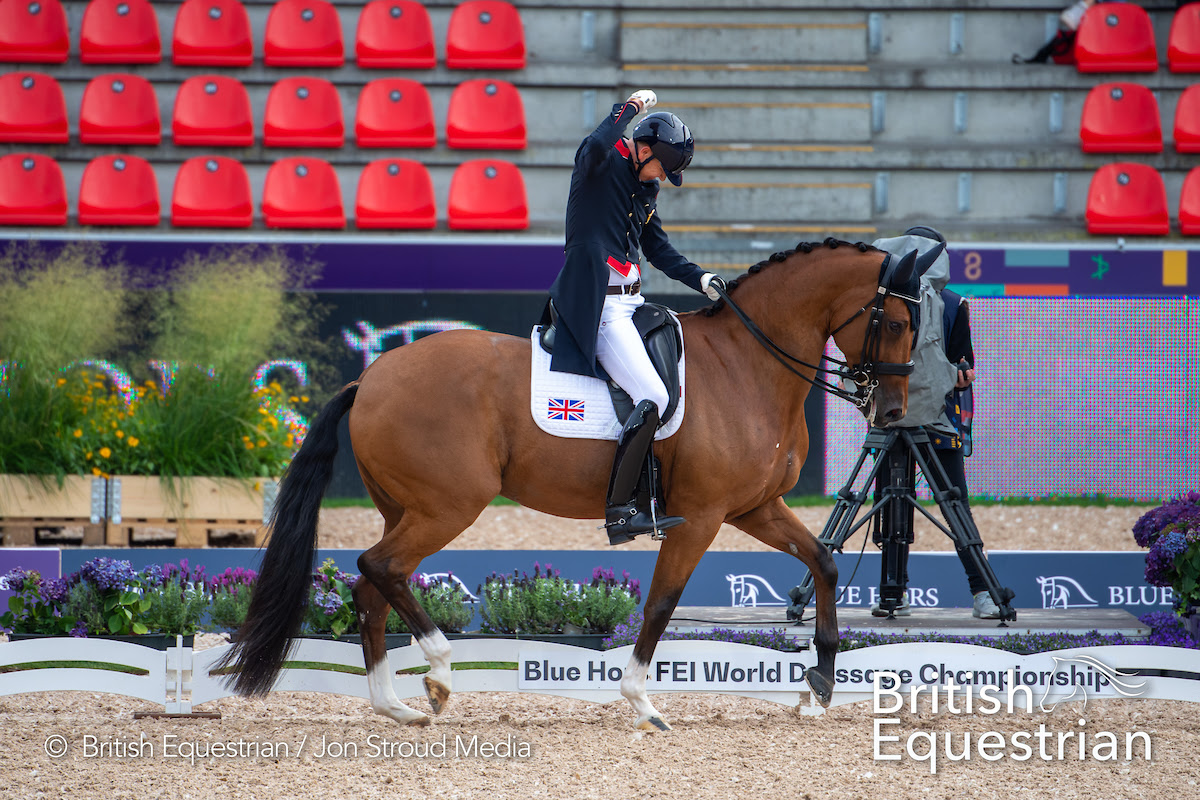 Britain lays the foundations on day one of Grand Prix at the Blue Hors FEI Dressage World Championship
After months of preparation for all involved, today saw the start of the Blue Hors FEI Dressage World Championship, which this year is taking place in Herning, Denmark. The Grand Prix test, run over two days, decides the team medals. Having flown through yesterday's horse inspection, the time had come for the Brits to step between the white boards and do battle with the best in the world.
The British team competing in Herning is a mix of age and experience versus youth and potential – while all four riders are no stranger to a championship team, three of the four horses are making their championship debut, and two of those are under 12. However, with a huge atmosphere and passionate crowd filling the Stutteri Ask Stadium, today would be a pressure cauldron for all involved.
RICHARD DAVISON AND BUBBLINGH
First in for the British team was Richard Davison, who is riding in his first senior championship since the London 2012 Olympic Games. He brought forward his stalwart campaigner Bubblingh, with whom Richard is a familiar sight on Nations Cup teams. Regardless of the test would pan out, today marked a full-circle moment for Richard's career – he competed Bubblingh's dam, Ballaseyr Royale, at the World Equestrian Games in Jerez exactly 20 years ago.
Owned by Richard and Gwendolyn Sontheim, 16-year-old 'Bubble' is – to coin Richard's phrasing – a 'complex' character. Their test had a rocky start, with the Lingh x Picandt gelding becoming tense in the atmosphere of the huge Stutteri Ask Stadium. However, it's exactly that sort of complicated horse that Richard revels in partnering and he was able to nurse the homebred gelding through the test and into a more relaxed frame of mind, which brought their scores up.
"Well, it's not what I was dreaming about, but I'm also not too surprised because Bubblingh is a delicate character in his brain and his nerves," explained a philosophical Richard after the test. "It wasn't easy at the beginning and we had a few miscommunications but, equally, he came back and he suddenly received the messages that I wanted him to receive, and he gave me some nice stuff."
Their final score of 68.851% was a little way off what they're normally capable of producing, but the hope is that this experience will leave Bubble more prepared for what's to come in Monday's Grand Prix Special.
"I'm really enjoying being here and the score hasn't dampened by enjoyment in the least," commented Richard. "Frankly, I've been around long enough and I know the expectations, and I'm thoroughly relying on these three lovely team mates I've got to go out and pull out some very high scores – and now they might have to go and pull out some even higher scores, but I know they can do that, and that's why I'm loving every moment being here."
GARETH HUGHES AND CLASSIC BRIOLINCA
The second combination to ride for Great Britain today was another experienced one. Gareth Hughes and Classic Briolinca have made their return to the British team after competing at the FEI European Championship in Rotterdam in 2019, where they were the highest placed British pairing and pulled out three personal bests. The 12-year-old mare, who Gareth owns alongside his wife and daughter, Rebecca and Ruby, and Julia Hornig, has spent much of the period between championships being slowly brought back from injury, leaving Gareth free to campaign Tokyo reserve and European silver medallist Sintano Van Hof Olympia. However, their international season so far this year has seen them on the podium for every test and they were expected to lay a strong foundation for the British campaign.
As predicted, they put in a lovely, fluid test that was very pleasing to the eye and correct. While 'Princess' isn't the biggest mover, Gareth is a master of maximising her highlights – pirouettes, piaffe and passage – and, indeed, their final pirouette earned four nines from the judges.
They looked sure to take the top spot ahead of long-time leaders Nana Merrald Rasmussen and Blue Hors Zack, and indeed trended in the lead through much of the latter stages, but the clapping of the overzealous crowd as the pair came down the final centre line unsettled Classic Briolinca, unfortunately leaving their final halt as more of a piaffe than an immobility.
"She was good, wasn't she!" said Gareth afterwards. "She worked in really well and got a little tense going into the arena, and I could feel it – she bubbled away and a couple of years ago that would have worked against us, but she held it together. All the hard stuff she does so well, it's just a pity about the easy things. The last halt with everyone clapping – the judge at C just shrugged his shoulders like 'there's nothing you can do'. But what do I say about her? She's amazing.
"When I do the lines – the piaffe/passage lines, the half-pass, the pirouettes – I can feel her lock on, she knows exactly what to do. Those pirouettes I can sit there and feel I have all day. The tempis are like a metronome, so if I have to forgive her for not halting at the end, then I can at least give that to her. She's 16 years old, but doesn't have a lot of miles and there are more teams in her. She's proven herself to be really world class."
Their final score of 75.978% left them nearly 0.75% adrift of Nana and Zack, but still enough to slot into second with a five combinations still to go.
CLOSE OF DAY ONE
With day one of the Grand Prix complete, it's Gareth and Classic Briolinca who lead the British charge from overnight sixth, while Richard and Bubblingh are down in 25th place. In the team standings, Britain sit fifth behind Sweden, Denmark, Germany and overnight leaders, the Netherlands. However, with two riders gone and one score being discounted, this largely reflects the individual leaderboard.
Tomorrow features a double helping of Charlottes from the British camp, with Charlotte Dujardin and Imhotep, and 'Lottie' Fry and Glamourdale both stepping forward. While both young horses are making their championship debut, the talent sitting in each of their saddles means that these performances are not to be missed. Charlotte and Imhotep will go first at 12:35 BST, while Lottie and Glamourdale will seal up the British campaign at 17:51 BST. At this halfway stage for the British team, there's still all to play for.
"There's four of us on the team," pointed out Gareth. "Richard did a great job this morning – Bubblingh got a little tense, but he did fantastically. Our job is to come here and get what we know we can get, and lay down those scores. I came here and knew that, if I could go mistake-free, it could get around 76% which, without that last halt, I would have done, so I feel I've laid that down and I'm really proud of that. Charlotte and Lottie are so experienced. It's a new team, with young horses for them, but those girls can do their job – they can do it in their sleep – they're the most amazing competitors. Us boys have done our bit, laid our scores down and the two girls just need to get the job done for us."