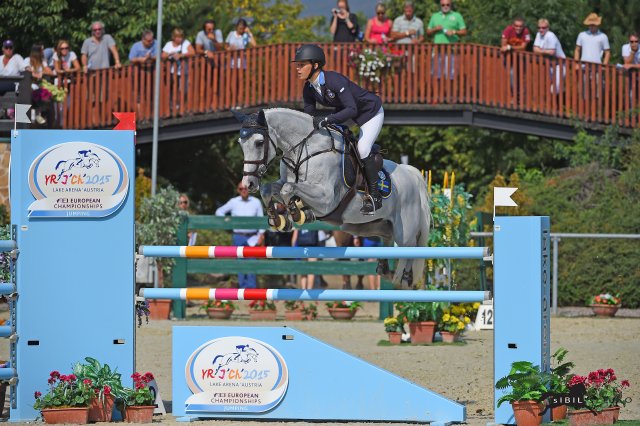 Via: pferdenews
From its very best showed shone also on Wednesday the Lake Arena: The entire area of ​​the Wiener Neustadt plant shone on every corner with its special charm, hospitality and flair, so another fantastic day of the event nothing stood in the way.
On course Place the test Young Riders was built, who had to make their first Championship Event, the time jumping over 1.45 meters. To stay error free so was not enough to secure a front seat, you could not shy away from even properly to make pace and narrow paths and risky lines risking. Just as it Elina Petersson made: The Swede who for the last time with her 21 years has the chance to go in the junior European championships at the start, sat in the saddle of "Canasta Z" brilliantly took the lead through. The Canabis Z subsidiary, in Knokke already recorded a victory a few weeks ago, announced today their best and helped her skillful rider in 68.13 seconds to lead in the championship ranking. Exciting it had made Chantal Müller that a risky attack on the fastest time dared to "Utabasca" had to enter but was eventually defeated in 69.36 seconds. Only a few hundredths behind the Briton took Chloe Winchester on "Avoca Valkyrie" in 69.56 seconds in third place.
For all young riders it is serious about tomorrow the first round of the Nations Cup, which will start at 14:00 clock. The second round of the Nations Cup is scheduled Friday afternoon.
YOUNG RIDER -. 1st Individual Qualifier Annex IX, Art 16.3.2,17.1

1.CANASTA Z / PETERSSON Elina (SWE) - 0 / 68,13

2.U TABASCA / Chantal MULLER (SUI) - 0 / 69.36

. 3 AVOCA VALKYRIE / WINCHESTER Chloe (GBR) - 0 / 69.56

4.VDL GROEP SABECH D'HA / Nooren Lisa (NED) - 0 / 70.01

Check the full results here
--End--