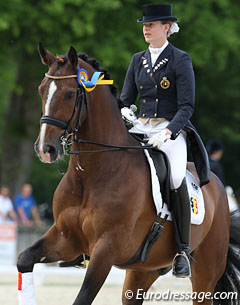 Via: Aachen 2015
Jorinde Verwimp – she is the youngest rider at the FEI European Dressage Championships Aachen 2015. The Belgian dressage rider will be 21 in November and she got the Belgian dressage team off to a good start at the Aachener Soers. The youngest member of the Belgian team scored 71.086 percent on the first day of the European Championships, her best personal international result.
Together with her European Championships partner, Tiamo, she has already taken part in four European Championships at Young Rider and Junior level, but she is competing at Senior level for the first time this year. "It is fantastic that I actually succeeded in making the team here," the dressage rider raved. "I incredibly enjoyed my ride in this huge stadium here in Aachen."Tiamo is a very diligent horse with a lot of positive energy and he didn't let himself get distracted by the setting of the Aachen Stadium.
In the past, her father, Wim Verwimp, also competed for the Belgium team at European Championships. He trained his daughter for many years, but for the past three years Jorinde has been riding and training at the stable of the Dutch Olympic gold medallist, Anky van Grunsven. "She is a very special trainer!"
Should Jorinde Verwimp make it into the second round, the Grand Prix Spécial MEGGLE-Prize that the best 30 pairs from the Lambertz-Prize Grand Prix qualify for, she will be delighted and will ride according to the motto: I have got nothing to lose!"
--End--