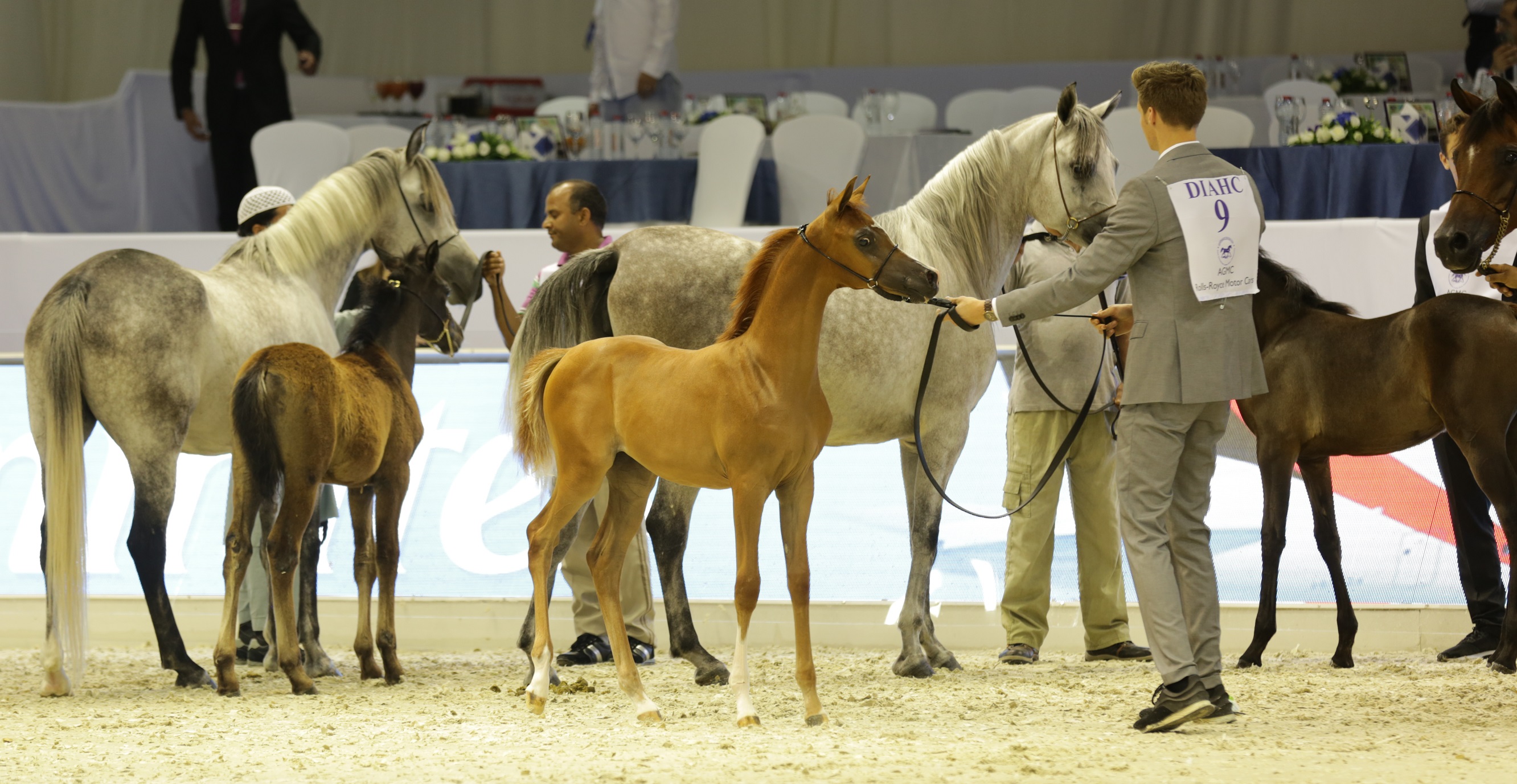 Top studs in the UAE showcase elite Arabian foals, fillies and colts under 12-months-old
Admission is free of charge to the general public who have the opportunity to witness a variety of equestrian, entertainment and cultural activities
Dubai, United Arab Emirates
Purebred Arabian foals, fillies and colts take centre stage with their mothers at this year's 13th Dubai International Arabian Horse Championship, which is held alongside the 12th Dubai International Horse Fair opens. Described as the "Babies of the Year" segment, young horses under 12 months and their mothers were showcased by some of the biggest horse studs in the UAE.
Held under the patronage of H.H. Sheikh Hamdan bin Rashid Al Maktoum, Deputy Ruler of Dubai and UAE Minister of Finance, Dubai International Arabian Horse Championship and Fair take place until Saturday, 19 March 2016 at Dubai World Trade Centre.
Launched in 2013, the Foal Classes is a platform for UAE-based studs to proudly show off the stunning horses that they are capable of breeding. This year 18 foals together, with the mares that sired them, participated. More than half of these foals will go on to compete in the Yearling Class (horses between one and two-years-old) at next year's Championship.
The 13
th
Dubai International Arabian Horse Championship will present the finest Arabian horse bloodlines, which are the oldest purebreds in the world and are mentioned throughout much of recorded history.
These
magnificent Arabian breeds are valued between USD1 million to USD2 million and will be showcased to discerning equine aficionados. The competition, aimed at purebred Arabian horses to judge their beauty – including their large expressive black eyes, arched neck, short back and high tail carriage - offers prize money of USD4 million (AED15 million).
The Dubai International Horse Fair 2016 is held in Halls 5 and 6 at Dubai World Trade Centre. Opening hours are 2pm – 8pm on 18 March and 11am – 8pm on 19 March. Admission is free of charge and open to trade visitors and the general public. Children under the age of 16 must be accompanied by an adult at all times. Pre-registration is now open at the show's official website
www.dihf.ae
.
About Dubai International Horse Fair:
DIHF 2016 will be held from 17 - 19 March 2016 at DWTC. For the 12th consecutive year, the exhibition will serve as a forum for international manufacturers, distributors, retailers and equestrian enthusiasts.
DIHF will be held under the patronage of HH Sheikh Hamdan bin Rashid Al Maktoum, Deputy Ruler of Dubai, UAE Minister of Finance. The exhibition will once again be held alongside the Dubai International Arabian Horse Championship, a world-class competition for purebred Arabian horses.
With the region's largest display of equestrian equipment, services, products and interactive horse experiences, the three-day exhibition is expected to attract thousands of visitors.
About Dubai World Trade Centre (DWTC)
As the organiser of the Dubai International Horse Fair 2015, Dubai World Trade Centre (DWTC) offers over 34 years experience of delivering world-class events in the Middle East, providing local, regional and international exhibitors with unmatched expertise and in-depth market knowledge. Our team organises 20 of the largest and most successful international and regional shows in Middle East, providing an ideal platform for business development in the region.
Our commitment to ongoing innovation within the exhibition industry has supported the rapid growth and development of a wide range of business-to-business and business-to-consumer shows, and delivered consistent satisfaction to exhibitors and visitors. DWTC works with the leading trade bodies and industry associations to ensure that all exhibitions deliver full value and are built upon the real needs of their specific sector.
--Ends--
Photo Gallery
Prev
1 of 4
Next