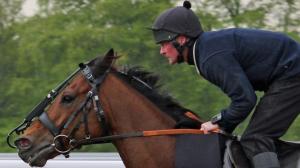 Intra- and interobserver reliability estimates for identification and grading of upper respiratory tract abnormalities recorded in horses at rest and during overground endoscopy
L. McGivney, J. Sweeney, F. David, J. M. O'Leary, E. W. Hill, L. M. Katz
This blinded cross-over study evaluated observer agreement in upper respiratory tract (URT) endoscopy for multiple URT disorders, during resting and overground endoscopy. Endoscopy videos from 43 Thoroughbreds with URT disorders were evaluated in duplicate by four clinicians and graded according to previously defined scales. Intraobserver and interobserver reliability were statistically evaluated.
Perfect or near-perfect intraobserver agreement was found for arytenoid asymmetry at exercise, epiglottic retroversion and epiglottic entrapment. Substantial intraobserver agreement was seen for arytenoid asymmetry at rest, palatal dysfunction, medial deviation of aryepiglottic folds (MDAF), epiglottic grade at exercise and pharyngeal mucus. Moderate agreement was seen for vocal cord collapse, ventromedial luxation of apex of corniculate process of the arytenoid (VLAC), epiglottic grade at rest and nasopharyngeal collapse, overall suggesting that individual clinicians are consistent in their grading of URT conditions.
Interobserver agreement was lower. There was near-perfect agreement in intermittent dorsal displacement of soft palate (DDSP) and moderate agreement for grade B arytenoid asymmetry at exercise, grade 2 MDAF and grade 2 palatal dysfunction. Overall the results suggest that grading of these disorders is somewhat subjective and based on the clinicians opinion.
Bottom line:
Intraobserver reliability in endoscopic evaluation of URT disorders is good; however, interobserver reliability could be improved by clinician training and more defined grading systems, especially for conditions of the epiglottis.
--Ends--