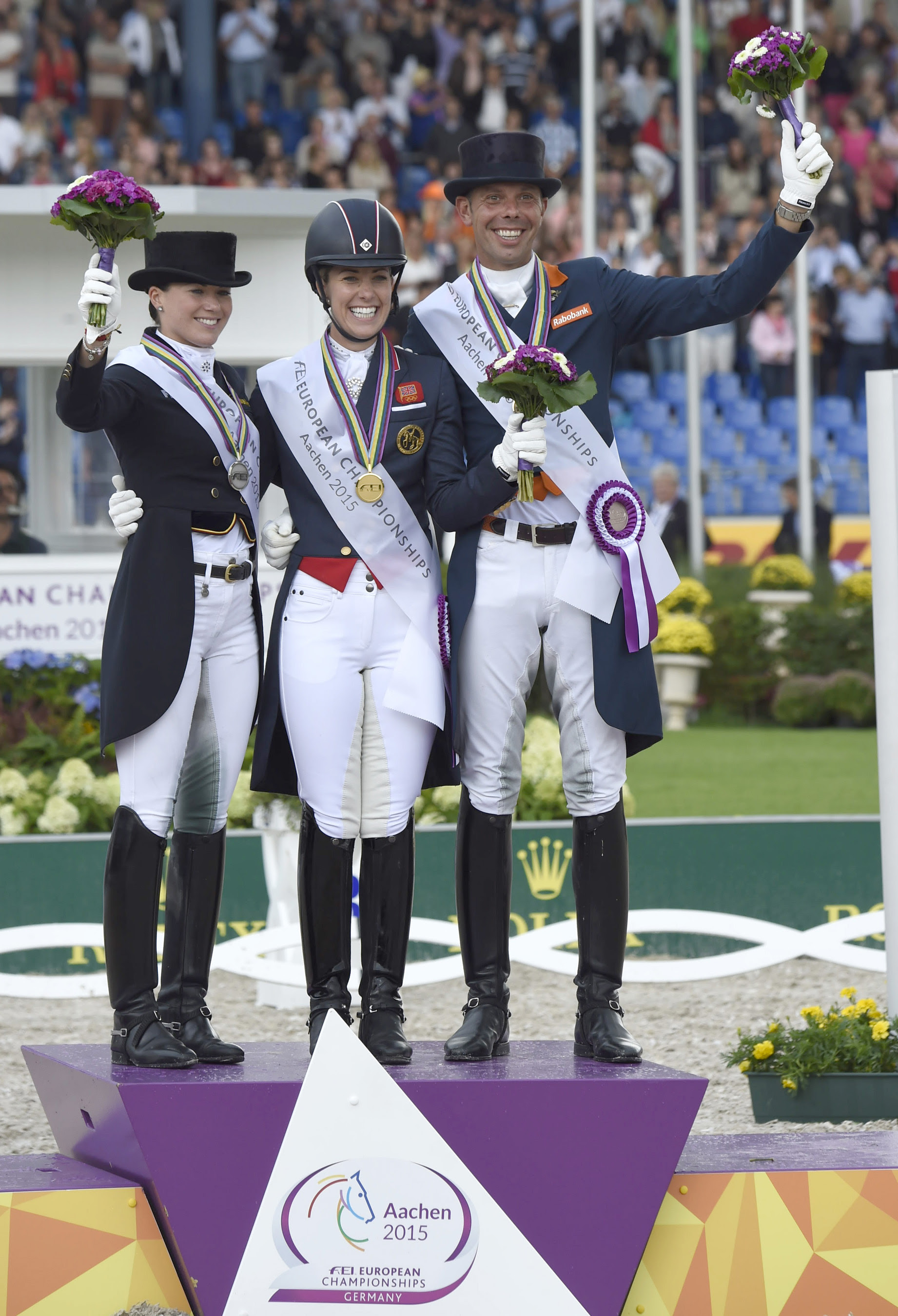 Via: Revolution Sports+ Entertainment
Charlotte Dujardin and Valegro proved their worth once again by claiming Gold and setting a new European Championship record at the FEI European Championships in Aachen. The duo claimed first place in the D2 MEGGLE Grand Prix Special scoring a superb 87.577%, just shy of their world-record score of 88.022%.
Strong Performances from British Contenders
Charlotte and Valegro did indeed steal the show in front of an impressive crowd of 28,000 but there was much celebration to come from the rest of the GB dressage camp, with two other riders finishing within the top 15 and through to today's Freestyle.
Carl Hester finished fifth after scoring 77.003% on board Nip Tuck, a personal best for the pair, while Fiona Bigwood, and her horse Atterupgaards Orthilia, who battled with the elements when the rain poured down during their test, came ninth on 74.210%.
Second Place for the Home Nation
Rolex Testimonee, Isabell Werth, rode her horse Don Johnson earlier in the day, they conceded a small error but as true professionals they recovered extremely quickly and made it through to the Freestyle with a score of 75.924%.
Germany's Kristina Bröring-Sprehe placed second after an excellent round with her horse, Desperados FRH, scoring 83.067%.
The top 15 riders from yesterday go through to today's Deutsche Bank Prize, Individual Grand Prix Freestyle.
Rider Quotes
Charlotte Dujardin (GBR):
"I think after Thursday I wasn't so happy with myself, I think I was a little too relaxed and I let silly mistakes happen. Today I wanted to go in there and do better. Valegro felt on top form outside and it was such an amazing feeling to go into the arena. As I was trotting round, I saw Kristina's score flashing up on the screen, that really drove me on - I thought, right, I'm going to get you! It doesn't make me afraid, it makes me fight harder."
Kristina Bröring-Sprehe (GER):
"It was really great, he was a fighter and he gave his best. It was fantastic, the audience were wonderful and I'm really happy the stadium was so full.
Rolex Testimonee Isabell Werth (GER):
"The horse was in super shape and I'm very happy that I could show the quality and that he is serious. I think that was one of his best tests. For today though we will have to wait and see, we need to be in the top 15, and then I will let him dance."
Results, Dressage Individual Final
Charlotte Dujardin/Valegro (GBR) 87.577%
Kristina Bröring-Sprehe/Desperados FRH (GER) 83.067%
Hans Peter Minderhound/Glock's Johnson TN (NED) 79.034%
Beatriz Ferrer-Salat/Delgado (ESP) 77.395%
Carl Hester/Nip Tuck (GBR) 77.003%
Tinne Vilhelmson Silfven/Don Auriello (SWE) 76.148%
Isabell Werth/Don Johnson FRH (GER) 75.924%
Jessica von Bredow-Werndl/Unee BB (GER) 74.790%
Fiona Bigwood/Atterupgaards Orthilia (GBR) 74.510%
Diderik van Silfhout/Arlando N.O.P (NED) 74.426%
--Ends--