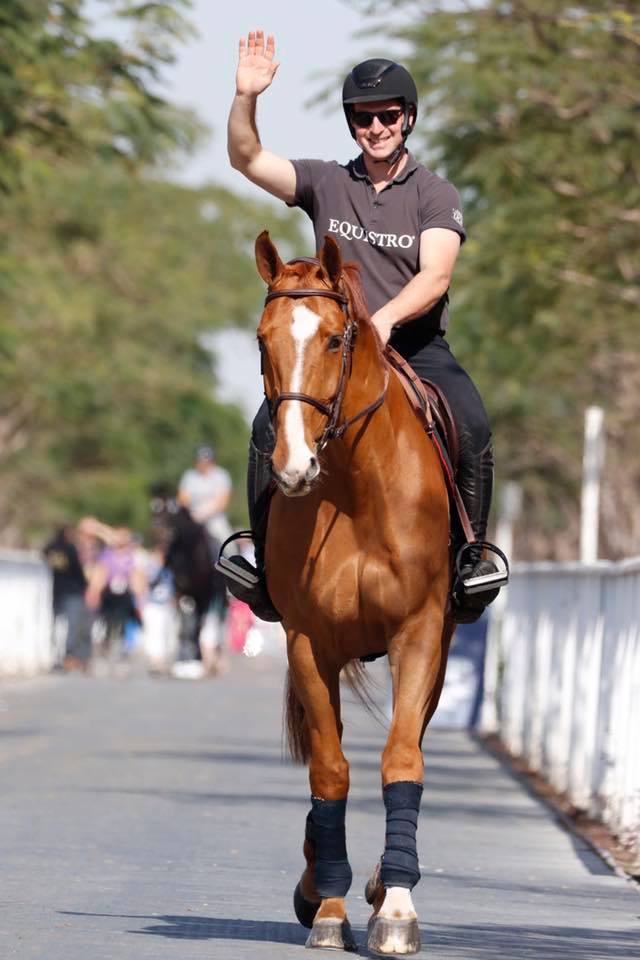 CHI AL SHAQAB 2017, Doha, Qatar
Emanuele Gaudiano took every risk to win the CSI 5* speed class on the final day of CHI AL SHAQAB with a time of 60.34. His stallion Chestnut simply ate up the ground with his huge strides. Gaurdiano never took a pull around this 1m 45 course and kept spectators on the edge of their seats when he took some strides out before several fences, including the last. The ever consistent Italian was delighted with his first win at this year's edition of CHI AL SHAQAB, although he has finished in the top placing in several CSI 5* classes this week. Speaking after his win he explained "my horse was really with me. He likes to go fast. I have competed in this sport since I was nine years old and I love being a show jumper."
Gaudiano is now based in Germany as it offers better access to competitions than his native town of Matera. He lives with his wife Henrike and daughters Lisa and Elia. Alongside competing at the highest level he trains and competes horses of all ages together with his father Giovanni. He competed in the Rio Olympics for Italy on Casper 232, the horse he will be riding in the Grand Prix here at CHI AL SHAQAB.
It was another great result for Ibrahim Hani Bisharat and his diminutive mare Brown Sugar who is proving useful in the speed classes this week. He finished just a fraction behind Gaudiano on 60.61. Interestingly the first and second placed horses were both sired by Chacco Blue. Chacco Blue was himself a Grand Prix winner and had a staggering four of his progeny represented at the European Championships in 2015.
Markell va der Vlueten had his best result of the show so far with a third place on VDL Group Quatro on a time of 60.94.
--Ends--