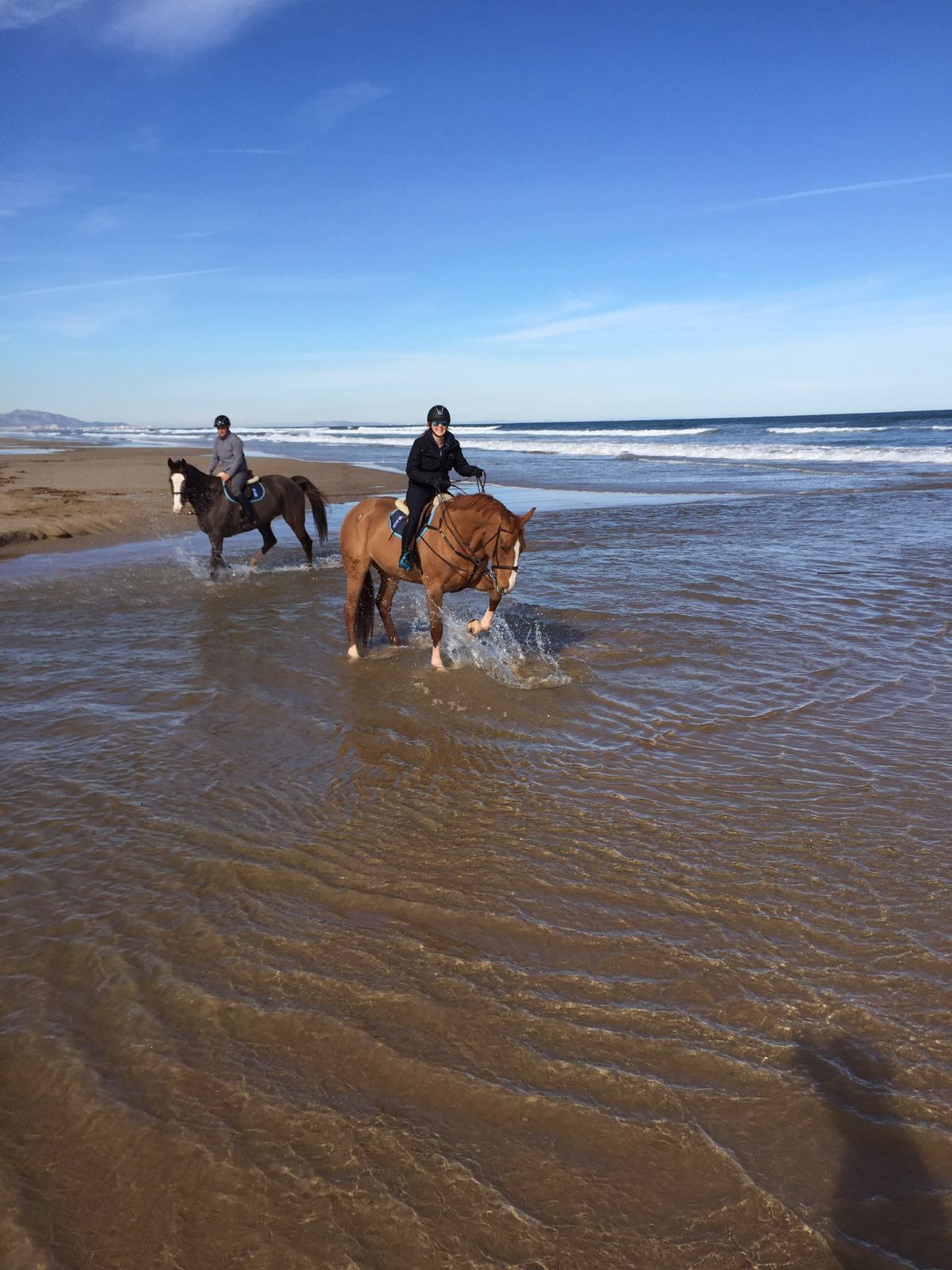 The Perils Of Show Jumping Sport - 30
Well once again the blogs are getting longer and the gaps between them further apart!
I've decided that the correlation between these two things is a good indicator of the level of madness in the WKD yard at a particular point, and the fact that it's been over two months since I was last able to put anything down in words speaks for itself in the fact that we have been so incredibly, stupidly busy!!!

So what's been happening in the world of our team of show jumpers as we traverse the continent in search of glory, points and prize money you ask.....

Well what indeed....

Our latest tour which shall eventually encompass three countries began in mid. January not long after the Christmas craziness had finally ceased. We somehow managed in an increasingly Harry Potter magical way to fit seventeen horses, two drivers, three grooms, one miniature pincher and various boxes, lockers and pieces of equipment onto two Lorries and two trailers bound for our first port of call, Oliva nova, for the MET 2016 January two week tour. But just two weeks you ask, why such a short trip...?

Well....

I had taken the, at the time, what seemed to be a brilliant decision in November, that as each tour had its merits, and we were struggling to decide which one to do, why not do as many of them as possible, for a few weeks each....

Fabulous idea, no?

I keep reminding myself of this brilliance now as I feel myself heading towards a complete breakdown of all my mental abilities to make rational decisions as my brain functions slowly grind to a halt due to the sheer size of the task that I have found us in the midst of!!
It's got so bad that I have actually found myself at the minute taking half an hour to decide if I want tea or coffee to drink...!!

Anyway, we managed to get all horses safely to Oliva and kicked off the season there with a fantastic start, Sam and the brilliant Chiquito z who just arrived in the yard in time to give Sam a nice Christmas present, proved himself worthy of a place on the team straightaway winning the first ranking class of 2016 for the Wkd team.
This was a super start and was followed by many other good placings for all the horses competing with both myself and Sam, my two bay mares championes and hhs mastermind also flying the stable colours high for me in their respective classes, within one class the sycamore stables riders responsible for first, second and fifth place, resulting in a friend enquiring if we sponsored the class there because there were so many WKD horses in the lineup!

The third member of the team lining up on that occasion was fellow Irish man Darryl walker who had joined us for two legs of the tour, Oliva and vilamoura to help us out in riding all the horses and to compete some of them in the ring; there was No chance that Sam and I were ever going to have managed otherwise!
It was Darryl who got to introduce our beautiful and exciting five year old WKD spice to the whole showjumping thing, with her promptly rewarding our belief in her potential by jumping many clear rounds and in the last week taking second place in the young horse five year old championships which considering, as with most of our youngsters, she had hardly been to a show as a four year old was brilliant.

Remember the name WKD spice well! by heritage fortunus, out of a mare called clo jo she was bred by Marion Hughs and is closely related to our past superstar WKD pepper pot, we have huge hopes for this little grey that I bought as a foal, and already she is living up to our high expectations!

It was a nice relaxing few weeks in Oliva, and a great way to start all the horses we had brought back into jumping fitness, we didn't compete them all there as the plan was to gradually start the seasoned campaigners who had been on their break, slowly as the tours progressed with the aim of sending the young horses home at the end of vilamoura and then the older horses would continue to the last tour with just Sam and I, in arezzo, Italy.

All too soon it was time to pack up and say adios to Spain and Bon dia to the algarve and the Atlantic tour where we would do four shows before moving on again.

We arrived ten days before the start of the show and it was actually super to have this time to work the horses and really get a chance to train with them in the sunshine and the great big arenas which we practically had to ourselves.
Ok, with so many horses it was no holiday, but with the kids off school on half term it was nice to be able to work in pleasant conditions away from the harsh wet and cold that my fellow riders at home were constantly keeping me updated on, and the horses started to respond well and look well in themselves.

I then decided that I wasn't busy enough and when one of my best friends Liam Mckee mentioned a horse in Scotland he had come across which he thought would be a super fit for me, of course it only seemed like a sensible idea to have it brought out to us.....

Eighteen horses... No worries!!

Through the power of social media I managed somehow to get it arranged on a Lorry heading from England in a few days' time and as if by magic we were joined by my now newly vetted, purchased and passported new ride, wicked crush, an 11 year old novice chestnut mare by Sandro boy.... Which I had never even sat on.... Let's just say I trust my friend an awful lot!

The weeks of the tour flew by with some minor placings for Sam and I here and there, but to be honest it wasn't in the ring the most successful few weeks we have had, with poles always managing to somehow make their way to the ground and for my horses to each somehow find a reason not to compete a particular week, with stupid rashes, injuries and colics happening it was starting to feel like this trip was slightly destined to be remembered by its mediocrity and after such a promising start it was hard for us not to feel like all the hard work wasn't getting us anywhere!!

But that's horses and looking at it rationally from the outside, the purpose of these tours at the beginning of the season is to get all the horses fit, well and running, so that the rest of the season we can benefit from this preparation and start to reap the rewards from it.

Horses, like us, feel sore when they come back into work after long holidays, and their skin isn't just quite as tough as it is at the end of the season with the first clipping of the year exposing skin which has been nicely protected from the elements all winter, set backs are to be expected and it is necessary to set ourselves as riders, realistic goals for each horse to achieve and be happy when they are realised even if that horses' particular goal might only be to jump a lovely clear round, but not finish in the prize money. This is our sport and we must accept this, and likewise when the wins do occur also take time to savour and enjoy them appreciate how difficult they are to earn!!

As the last week loomed both Sam and me were both extremely conscious of the size of our future entries bill and the lack of size of our winnings in contrast; it was time for the schooling to be put on hold for the week and the serious business of trying to win a few pounds got underway!
This involves not only trying to win in the ring but also the other side of our stables, trying to bring in new customers and showcasing the horses that we have to offer clients looking for new horsepower for the season.

We pride ourselves in our stables of knowing our horses well and hopefully being able to match them up accordingly to customers' needs, and the last week seemed to pass in a whirl of showing videos, meeting agents and showing horses; who knows if anything will come from it but so far it all looked positive and with past graduates from our yard such as WKD Tokyo, WKD pepper pot and WKD Lexington to name but a few, going so well with their new owners in countries all over the world as far apart as the United States and the United Emirates, our reputation for quality horses is hopefully growing!

We were also lifted by the fantastic result of WKD spice and Darryl taking fourth place in an extremely fast five year old championship, adding this to her second place in the previous finals in Oliva, spice will now return to Ireland for a few weeks well-earned break, having shown us that she is definitely heading the right direction in terms of her future ability as a top level jumper.

The older horses also ended the tour on a high, with Sam and limelight de breve, at seventeen years old, finally getting the win they had been knocking on the door of all tour taking the final days 140m class. Leen also won some super placings in the 140m classes this last week, an eleven year old mare by lux she is one of the horses just starting back after her winter break, and along with the feisty WKD diva who also achieved some super results including third in the small Grand Prix the previous week, Sam s team is looking to be a great one for this season.

Sumas zorro was also back in the ring after a long, well deserved break from September. This time though with a different jockey, as I got to play with her in the smaller classes as we bring her back to full fitness, but I think this will be a temporary placement as Sam is keeping a Definite close eye on me and making sure I don't get too comfortable in that particular saddle!!

Anyway I have plenty to keep myself amused with hhs mastermind getting in the ribbons and championes jumping some nice rounds and also my new mare started our partnership on the right foot jumping some really nice clear rounds for me culminating in a double clear in the last days 120m class in the main ring, baby steps I know! But I think she will quickly progress up through the heights and I am looking forward keenly to the season ahead!

So that's us up to date so far, a very long piece I know, but really only an outline with lots of things happening which are way too many to go into here!!

This week has been mad with Sam heading to Cairo for a few days to see family and sort his visa and myself to England for a day to the races to support the other arm of sycamore stables which is involved in the thoroughbred side of things, and then home to Ireland for a quick turnaround before meeting up with Sam in Italy for the start of our last leg of the tour with now eleven horses and one Lorry - hopefully still three grooms and a miniature pincher....

I wonder what lies ahead....!!

Keep following my blog to know what happens next!

Photo Gallery
Prev
1 of 8
Next