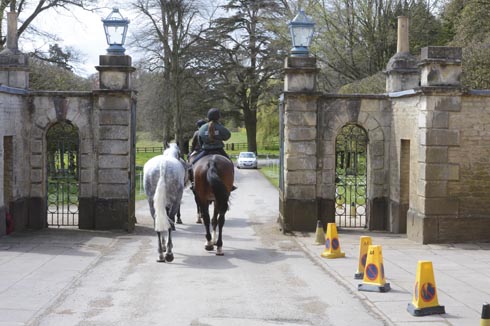 Via: horseandhound
Riding and leading is an effective way to exercise 2 horses at once, provided they're compatible.
"If they like each other, the job will be a lot easier," says trainer Guy Robertson, who would ride and lead four when he worked in the worlds of polocrosse and polo.
"Ideally they'll be paddock mates, or at least able to be tied up together without kicking out.
"You'll need really good control over the horse you ride — you should be able to handle him with one hand on the reins. Make sure that the other horse leads well from the ground and is happy to be led from the right-hand side."
How to get started

Guy starts his by leading them "nose to tail" in a small circle, in each direction. "They tend to be a lot happier like this," he says.
"The led horse gets used to following with no confrontation, and you can control his head more effectively."
The led horse will then fall into one of three categories, according to professional polo player and trainer Chris Crawford.
"Hopefully, he'll lead like a dream, with his head at your knee where it should be," he says.
"If he pulls ahead and wants to be in front, using a bridle can be helpful.
"Thread a rope from the far-side bit ring through the one nearest to you for more control.
"The worst-case scenario is a horse that constantly drags behind and doesn't want to be led," Chris adds.
"A training halter can be useful here for some in-hand work from the ground.
"Ask him to move forwards with even tension on the headcollar, releasing the pressure immediately to reward him when he takes a step.''
Top tips

Chris recommends practising in an enclosed area before venturing out.
"If the led horse is older, with some life experience, he'll probably be fine in a bridle," he says.
"A younger horse might be better in a headcollar at first in case he panics at too much pressure on the bit.
"Hold the rope so that the end connected to the horse is laid over the front of your hand, between your index fingerand thumb.
"Keep the led horse's rope in one hand and the ridden horse's reins in the other," adds Chris.
"With practice, ride and lead can be a great form of exercise and is probably better for the horse than a horse-walker."
Road safety
Extra care should be taken when riding and leading on the road. Always keep the led horse on your left, away from the traffic, and use a bridle for more control.
Wear hi-viz or reflective clothing and consider the size of the roads — some may not be wide enough for traffic to pass two horses safely.
The British Horse Society (BHS) recommends brushing up on the relevant rules of the road and taking the BHS Riding and Road Safety test to ensure you're riding and leading safely.
END